Youth Sport Trust is a national children's charity that is passionate about creating a future where every child enjoys the life-changing benefits that come from play and sport. They're on a mission to pioneer new ways of using sport to improve children's wellbeing for a brighter future.
How do they do this?  Their focus is on:
Transforming physical education
Removing barriers to sport
Unlocking potential
Empowering activism
Championing insight
Strengthening foundations
The charity have achieved some impressive results when it comes to tackling the decline in young people's wellbeing.
Improving mental wellbeing - 61% of young people reached through their Active in Mind programme are now coping better as a result of taking part
Promoting healthy, active lifestyles - nine in ten pupils at their Hub Schools have tried a new sport or activity in the three months after launch
Boosting attainment and achievement - 96% of young people supported to become a Young Ambassador in Wales now feel better prepared for life after school, including further education and employment
The public funding they receive through Sport England, plus a number of innovative fundraising events and trusts, is used to train teachers and coaches to provide better opportunities for young people to enjoy high quality, inclusive sport and play.
Their engaging fitness programmes include School Games, TOP Sportability, Play Unified, Healthy Lifestyle Championship and Active Across Ages. We take a look...
ACTIVE ACROSS AGES
Bringing generations together through play
Active Across Ages is focused on tackling isolation by bringing together the two loneliest generations.  Youngsters and older people come together to play sport and enjoy an active lifestyle.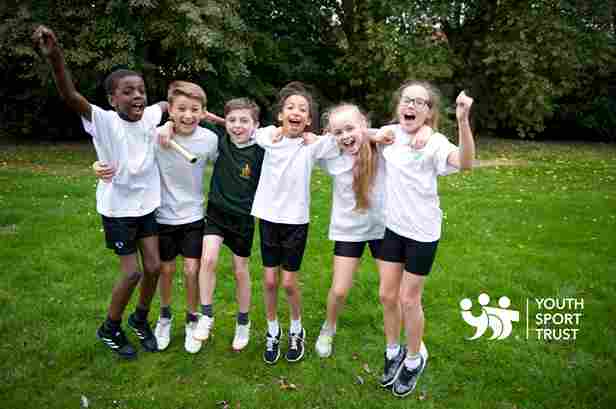 Ten schools within the UK have been partnered with ten older people's settings including care homes, community groups and day centres. Pupils in each school are being trained as Activity Buddies, volunteering their time to run a programme of activity with their older people's partner.
A BLAST FROM THE PAST..
In Derbyshire, school children have been busy learning about playground games of the past including Oranges and Lemons from their senior sporting partners. A great way to delve into a little sporting history. 
In Dorset, a GP surgery is now prescribing older adults with exercise, accompanied by young people which has helped to reduce the loneliness and safety concerns that can come with waking solo.
"I am lonely outside school and I only do stuff with my family. This was the best day I have had at school and I am going to be a leader when I leave school."
"I never thought the older people could teach me so much."
"It's all humbling and warms you in a way. You're now the role model, getting looked up to — it changes you to be like that, you act responsibly and give it more."
In 2018/19:
127 young people

have been trained as Activity Buddies

776 hours of social action

have been completed

69% of Activity Buddies

said it had helped them feel happier

85% of Activity Buddies

said they felt they were doing something valued by others
GIRLS ACTIVE
Innovating new ways to make sport and play inspiring
Youth Sport Trust's award-winning Girls Active programme is a partnership between teachers and girls, to understand what makes girls engage in physical activity. Young leaders and role models are empowered to provide inspiring and relevant opportunities for all girls in their schools. Through this approach, YST have successfully increased the number of young girls becoming physically active, whilst raising their self esteem.

CASE STUDIES
How YST have impacted the lives of young people
Louisa, aged 17 from Lancaster Girls' Grammar School in Lancashire won the Girls Active 'Personal Growth' award in 2018. Louisa joined the GLAM squad (Girls' Leadership and Marketing) at Lancaster Girls' where she held focus groups with her peers to understand what barriers were preventing them from taking part in sport.
Louisa focused on encouraging girls to try dance, particularly for the those who lacked confidence or did not have the same access as others to sports facilities. 
Throughout the school year, Louisa delivered dance workshops of all styles, celebrating Sports Week, International Dance Week and also launched a dance fitness club.
Her biggest achievement has been a dance showcase, working with girls in year 7 to produce a unique piece of dance and sharing her own experiences of mental health to deliver a speech about the impact of sport on mental health.
Clare*, a mum of two in West Somerset, has been attending Healthy Movers stay and play sessions. Her daughter Chloe* was born prematurely and struggled with her physical development. Clare previously had low self-esteem and tended to keep to herself.
By attending the sessions, she has gained new ideas for activities to do with her children at home. The support offered through YST has meant her four-year-old daughter doesn't need dedicated one to one support at pre-school to help develop her physical skills, as the activities are suitable for children of all abilities.
Vikki, the manager at Little Berries Pre-School, says little Chloe now enjoys physical activity more and is actively taking part with all the other children. Vikki says;
"We're in a society where parents feel the pressure that they are doing their children a disservice if they haven't made time to play with them. Giving them information and the chance to come and do fun things with their children through this initiative will help them so by the time their children come to school and need help with their homework, parents will be able to engage better."
We're delighted to be supporting Youth Sport Trust with our Million Mile Challenge event, taking place from 9th-19th January 2020. We hope you'll join us in reaching our million mile target to raise valuable funds for this awesome cause. 
*Names changed to protect identities.