Bristol Member, Ben and friends tackle 3K a day to raise money for MIND
Friday night bets in the Village Pub usually consist of who can eat the most fries or down the most (slimline of course!) gin and tonics. 
But for Bristol member, Ben and his pals, a Friday night wager has become a 365 day fitness quest!
Ben, Jack and Aaron made a bet that they could each run 3k every day throughout January. Which is an impressive feat alone in our bitingly cold British winter! Though after a few friendly tipples, their challenge became one that would see the year out.
Ben and his friends will run 3k every day this year. If any of the chaps miss a day's run, they will donate £20 each time to their chosen charity, MIND.
Village Gym Bristol member Ben, although a keen footballer had very little running experience prior to this challenge.
"I could run for about twenty minutes before getting tired. I've always played football so was physically fit, though really had to adapt to continuous running, which was difficult."
Not to mention, the trio's highly sociable lifestyle featured plenty of booze and food, so the challenge was a shock to their less-than-squeaky-clean systems. 
"I was a little chubby around the edges and definitely didn't have a stable diet, both boozing and food wise. I love to dabble in a session at the pub and a naughty Friday night takeaway. I have a compulsive urge for Salt and Vinegar crisps."

Ben (left) with Jack and Aaron
Having already completed 8 months, they show no signs of stopping. 
Ben, along with pals Jack and Aaron from Templecombe in Somerset have already raised £1500 for mental health charity, MIND, with a target of £3000 by the end of the year. 
It's been a tough challenge so far, with one of the three still recovering from a previous broken leg, Jack almost being knocked over by a lorry on their first outing and having to run through hail, holidays... and hangovers!
"We ran with terrible hangovers in Alcudia and Rome, sometimes in 40 degree heat. The lads have had to run at Glastonbury and also on a skiing holiday."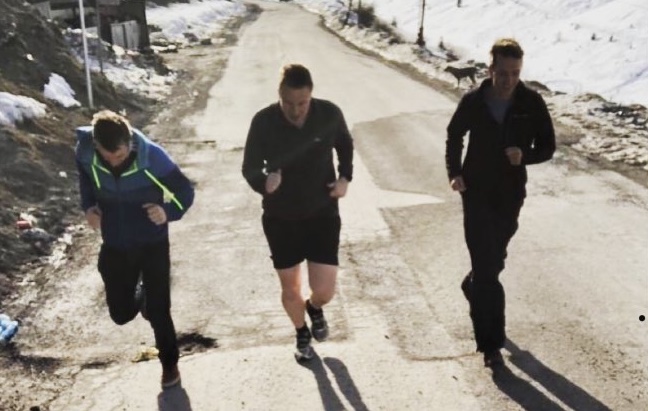 The boys running in Macedonia
Aaron, despite rupturing his ATFL, did three weeks of runs on crutches. Ben also completed the Bristol 10k and smashed his PB of 12k recently. So it seems they're developing a passion for running! 
The support for the trio has been immense, with friends and family donating, and several joining them on runs for moral support.
"All of our friends and family cannot believe we've stuck at it, especially me as I tend to run away from things. As a result, friends who have not been physically active have occasionally joined me and in turn donated to the cause."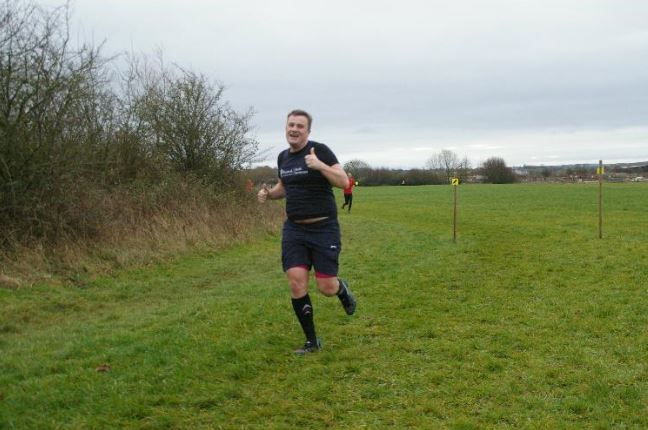 Ben and co are reaping plenty of other benefits from their bet too. Not only is all the running getting them fitter, they're cleaning up their diets.
"I eat a lot cleaner now, I even do one or two days of being meat free."
The three have all had to plan their runs in around their busy working schedules. Ben works in events for a Student Union, Jack an electrician, and Aaron a fireman. So a nine to five is never a typical day!
365 days of running can become quite monotonous we imagine, so Ben keeps it fun by varying his runs.
"I try to swicth up where I run and how far. I'll often run around the Clifton area, where I live, at lunchtimes I'll run around Filton nearby where I work, or at weekends, I'll escape to the hills. Though running down hill has caused me a lot of stress to my shins."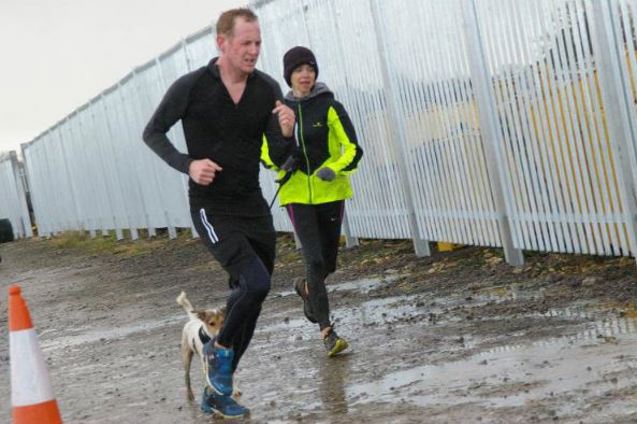 To ensure all targets are met, the guys track their distance on Strava then upload to Instagram daily to keep their growing list of followers in the loop.
"We made an agreement that runs can only be recorded on Strava so any football, which we do a lot of,  is not counted. I also cycle into work at least three times a week and that doesn't count either. A lot of body tear but all worth it." 
Their challenge has already met 50% of the £3000 target which will be donated to mental health charity, MIND.
Ben tells us;
"Every year, one in four of us will experience a mental health problem. MIND believes that no one should have to face a mental health problem alone. Neither do we. That's why we have decided to do something both unique and challenging to raise money for a great cause that is close to our hearts.
MIND and mental health is a big factor in my life and running everyday has really helped on days where I've felt blue. The three of us have family members with a history of mental health. We hope we can give something back to such an amazing cause." 
Follow Ben, Jack and Aaron as they run the rest of the year out, on their Facebook page or Instagram. Or donate on their Just Giving page. 
The Village Gym team are behind you all the way!