Village Gym member, Paria enlisted the support of Personal Trainer, Marius at our Watford gym following the birth of her son. She successfully regained and improved her core strength and muscle tone. 
"I used to love exercising before pregnancy. I worked with a couple of personal trainers who taught me how to do basic movements to strengthen my muscles. However, during my pregnancy, I was not motivated enough and I just did the occasional walking and pelvic floor exercises. My body got weaker and weaker as the pregnancy progressed. I was told if I had a natural birth I could go back to exercising faster than if I had a C‐section. I chose natural birth and my son was born two weeks early.
He was only 2.7 kg. Holding him and carrying him while breastfeeding was not too difficult at the beginning. Until I started to have shooting pain in my wrists and shoulders. He was getting heavier by day and I was worried that I would not be able to hold him for long if the pain continued.
Our parents live in Canada and other than my husband I had no help. My son was around 40 days old when I decided to exercise again. Fortunately, I have a supportive husband who decided to take care of our son while I go to the gym. We had a membership at Village Gym mainly because of the warm swimming pool. But we had never used the gym before.
To regain my strength as quickly as possible, I decided to hire a personal trainer. I had an induction with Marius about three months ago and from that very session, I knew he could help me to get my body back in shape. He seemed confident and educated. He mentioned that he had studied physiotherapy before and he was educated in physical therapy to restore movement and function after injury, illness or disability. I told him about my concerns and that I needed someone to motivate me to exercise again.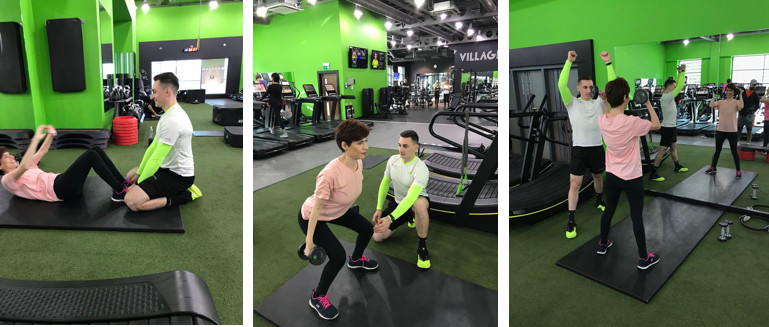 The first session was scary. I could not do even one sit up without feeling pain in my neck. I had difficulty doing squats and biceps curls with only 2 kg in each hand. It was a nightmare. I knew my body was weak but I was surprised to know how much muscle strength I had lost in just over a year.
If it weren't for Marius and his confidence, I might have quit there and then. He told me to not worry and that step by step I would get stronger. He explained to me the importance of core strength and suggested exercises that I could do at home by myself.
Since that first session, Marius has been patient and friendly. He clearly understands what exercises I need and how much he can push me. Above all, he's been extremely adaptable to my needs. He told me there is no one‐size‐fits‐all fitness plan and that everyone is different. If I was not able to do an exercise he would change it and adapt it in a way that I could.
Every session, he encouraged me to push harder and reminded me of my goals. I remember one session, I told him that I won't be able to do an exercise because of my wrist pain. Not only he adapted the exercise but he also told me how important it is to not give up on my wrist and make it stronger. I was surprised as my previous personal trainers would have immediately stopped giving me any exercises and asked me to rest and not put pressure on my wrist.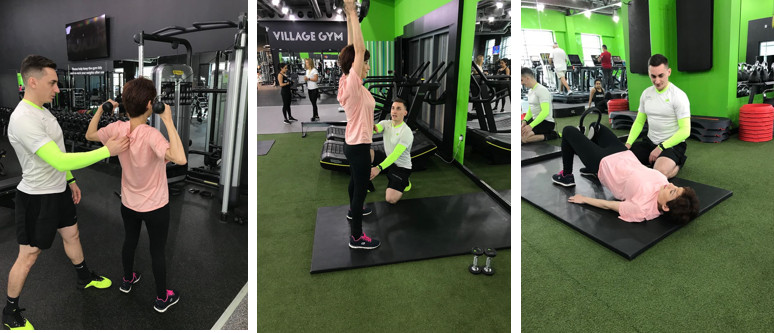 My son is 4.5 months now. I am now back to my pre‐pregnancy weight. I can wear my favourite clothes. I am energetic and a happy mom. I can hold and carry my 6.5 kg son and take him to singing and movement classes with no shoulder and back pain. Last week in one of my son's classes I was told I do not look like I have given birth and that the instructor thought I was his babysitter.
I am definitely going to continue having more sessions with Marius. I enjoy his sessions and his sense of humour which makes the sessions fun and encouraging.
I believe it has been the biggest investment of my life.
I strongly recommend him to anyone who is looking for an educated and confident trainer. He will empower you and encourage you every step of the way. Thanks to Marius I am ready to love exercising again. "
If you're in need of a little support, some fitness motivation or expert advice, speak to our team to arrange a personal training consultation. Let's get started on smashing those fitness goals...
Share Your Story!
Whether you're on your way to smashing a weight loss goal, working towards a sporting event, are getting started on post post-natal fitness or have achieved success in boosting your endurance… we'd love to hear how your Personal Trainer has helped to get you there. Contact us to share your story!