We love to hear feedback from our members on how Personal Training has helped them achieve their fitness goals. So we caught up with Paulette, a member at Village Gym Solihull, to see how she was getting on with Personal Trainer Tomas...
"I cannot recommend Tomas highly enough. Having booked in to have my initial Health and Wellbeing check at The Village Solihull, I was feeling a little apprehensive about the whole experience, not being a frequent visitor to the gym!
I needn't have worried as Tomas put me at ease immediately and made the whole experience positive. He really listened to what I wanted to achieve and helped me to set realistic yet challenging goals.
Tomas demonstrated the equipment clearly and helped me to feel confident about using some of the machines and weights which I had previously thought weren't for me.
As a result, I have made much better use of my time in the gym and am feeling much better for it.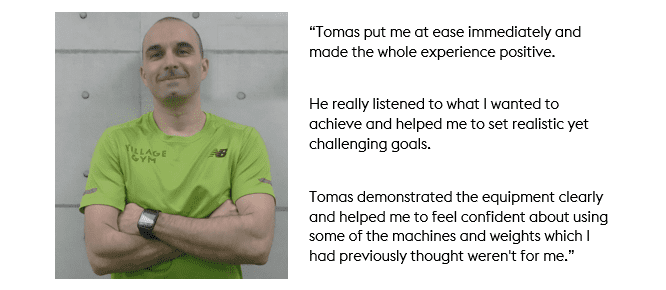 He's been great ever since too, checking on my progress and happy to answer any questions if he's around. In my experience, Tomas is a very skilled and patient PT and I would definitely recommend him, especially if, like me, the gym is not your natural habitat!"
If you're in need of a little support, some fitness motivation or expert advice, speak to our team to arrange a personal training consultation. Let's get started on smashing those fitness goals...
Share Your Story!
Whether you're on your way to smashing a weight loss goal, working towards a sporting event, are getting started on post post-natal fitness or have achieved success in boosting your endurance… we'd love to hear how your Personal Trainer has helped to get you there. Contact us to share your story!