A healthy diet can help you achieve so much more than just weight loss. Keeping your immune system strong, boosting your energy levels, improving sleep and reducing your risk of chronic disease are just some of the many health benefits of eating well and staying active.
Research has shown that the food we put into our bodies can also do wonders for our mental wellbeing. When you're feeling low, stressed or even bored, it's easy to turn to comfort eating, in an attempt to make yourself feel better. While this may temporarily soothe negative feelings, afterwards, not only does the original emotional issue remain, you're likely to feel full, sluggish and guilty for overeating.
So if you are feeling a little down, making sure you eat foods that are good for you rather than binging on junk food, can be the first step towards starting to feel better and happier.
Try one of these feel-good recipes, packed with foods that will enrich your body and lift your mood!
Ginger Salmon Stir Fry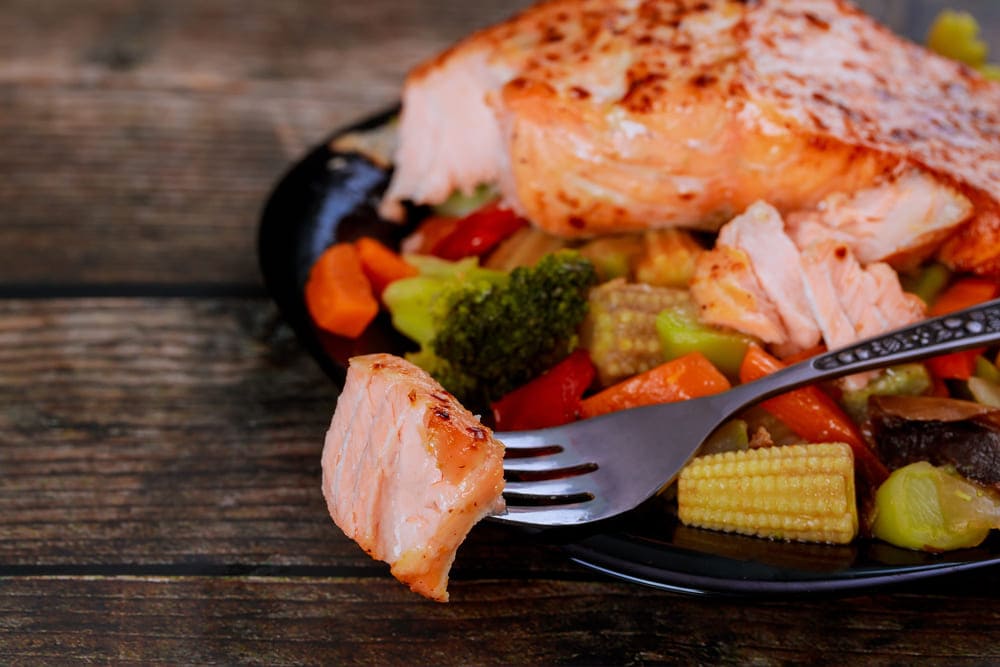 This quick and easy stir fry contains:
Salmon
Providing a great source of protein, salmon contains amino acids, which make up the chemicals your brain needs to regulate your thoughts and feelings. They basically keep your brain cells, nerve fibres and neurotransmitters ticking along nicely.
Ginger
Ginger has medicinal properties that have been valued and used throughout the ages. It's one of the very few superfoods actually worthy of that term and is loaded with nutrients and bioactive compounds that have powerful benefits for your body and brain. Among its many medicinal uses, ginger is proven to stimulate the immune system and circulation.
You will need:
juice 2 limes
2 thumb-sized pieces of ginger , grated
2 garlic cloves , crushed
2 tsp soy sauce
2 tbsp rice wine vinegar
2 skinless salmon fillets
100ml chicken stock
140g pack baby corn , halved
175g thin-stemmed broccoli
4 baby pak choi , halved
small bunch spring onions , sliced
Method:
STEP 1- Mix the lime juice, ginger, garlic, soy and vinegar with some black pepper. Pour half over the salmon fillets and leave to marinate for 10 mins.
STEP 2- Heat the grill to High. Lay the salmon on a non-stick baking tray and grill for 5-6 mins each side or until cooked through. Meanwhile, heat a wok with the remaining marinade and the stock, add the baby corn and broccoli, stir-fry for about 5 mins, then add the pak choi and cook for 2 mins more.
STEP 3- Serve the salmon on top of the vegetables with any sauce from the pan and sprinkle with the spring onions.
Super Green Smoothie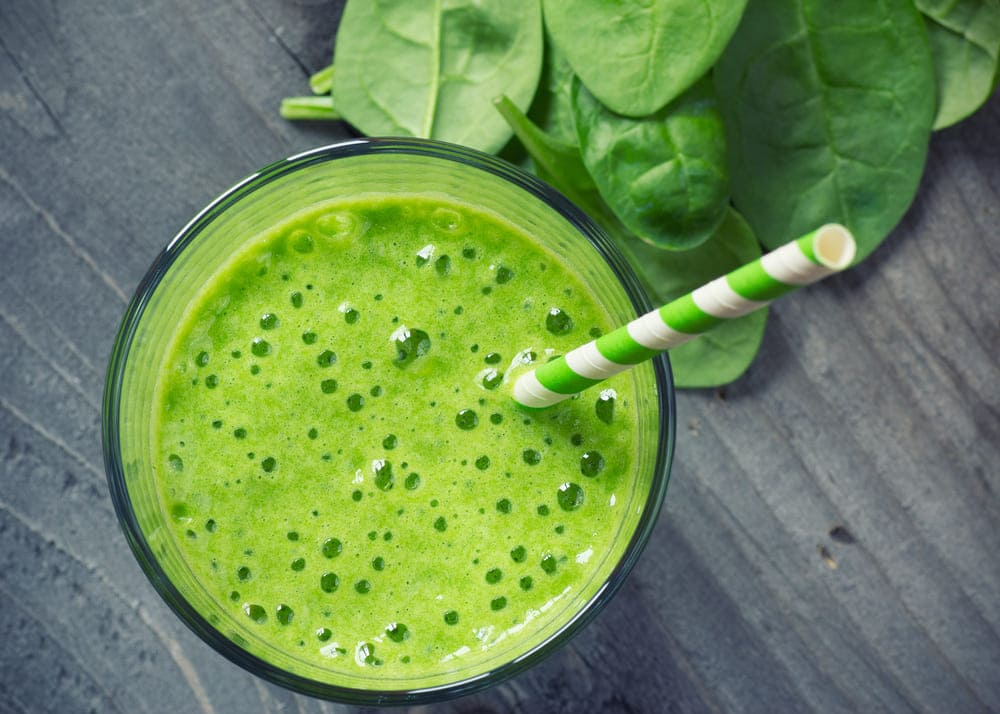 Perfect for a speedy breakfast this delicious smoothie contains-
Banana
Full of potassium, which helps maintain a healthy nervous system and the body's acid-alkali balance.
Spinach
Dark, leafy greens, like spinach, are full of folate, and act like a natural anti-stress medication.
Oats
High in fibre, oats are a great source of energy. Eating foods that are slow to digest help maintain your blood sugar levels to stabilize your mood.
Live yoghurt
Digestive health is linked to your emotional health and if you're feeling stressed or anxious this can make your gut slow down or speed up. Live yoghurt and other probiotics contain beneficial bacteria that help to maintain a healthy gut.
You will need:
1 banana
Handful of spinach leaves
30g rolled oats
Honey tsp
2 tbsp Greek yoghurt (or other live yoghurt)
200ml Unsweetened Almond milk
Ice
Method:
Wiz all the ingredients together in a blender and serve in a tall glass with a straw.
Dark chocolate coconut energy balls
Cacao coconut energy balls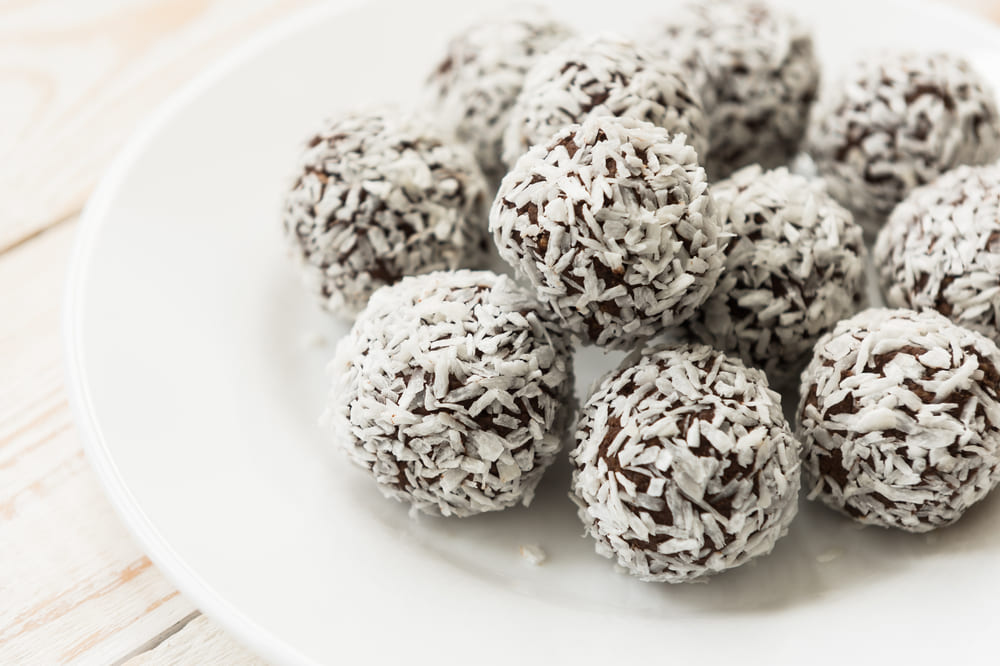 Curb cravings for sugary snacks with these saintly sweet treats that contain:
Cacao
Recent studies have shown that dark chocolate containing a high percentage of cacao can help to increase cognition, memory, mood and boost the immune system. The organic compounds responsible for the positive effect are called flavonoids and work by stimulating the central nervous system.
Coconut oil
Healthy fats such as coconut oil are linked to higher levels of energy and a better mood due to the vitamins and minerals they contain. Your brain needs fatty acids (such as omega-3 and -6) to keep it working well. So rather than avoiding all fats, it's important to eat the right ones.
You will need:
Coconut oil- 1tbsp
Cacao powder 2tbsp
Vanilla extract- 2 drops
Agave syrup- 1tsp
Rolled oats- 60g
Coconut flakes-30g
Method
STEP 1- In a medium saucepan on low heat, melt the coconut oil then remove from the heat.
STEP 2- First, mix in the cacao powder and vanilla into the coconut oil. Next, whisk in the agave syrup then stir in the coconut flakes and oats until well combined.
STEP 3- Place the mixture in the freezer for 10 minutes.
STEP 4- Use a small scoop and form the balls. Place the balls on a parchment lined baking sheet. Then pop the baking sheet back into the freezer for another 30 minutes.

Grapefruit and Ginger Mocktail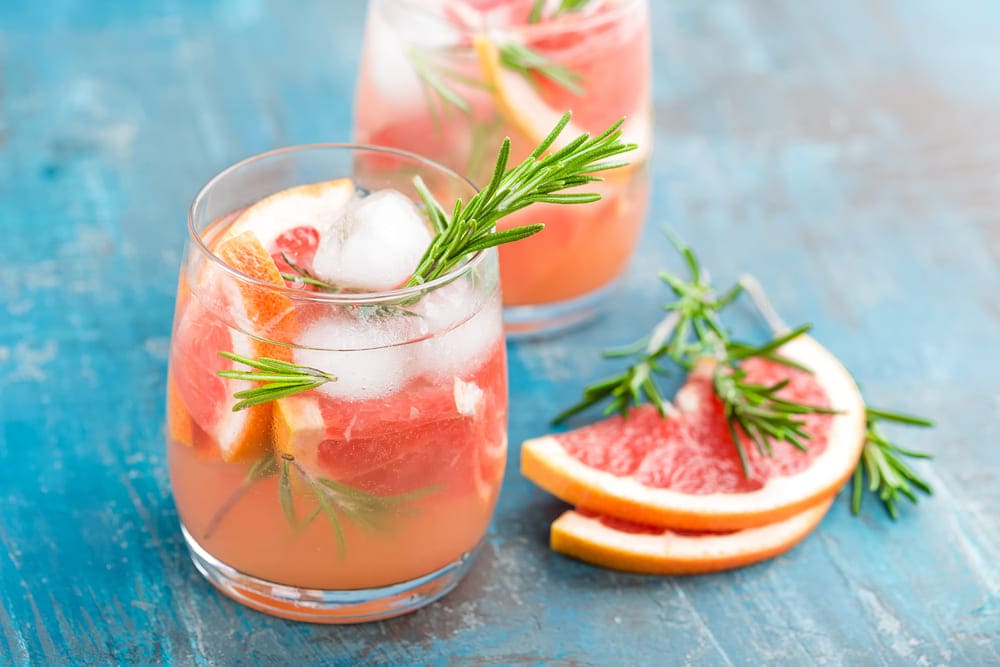 If you're feeling blue, pouring yourself a tipple isn't always the best idea. Although you may feel merry while you're drinking, alcohol is essentially a depressant that can interrupt your sleep cycles, preventing you from getting a good night's kip. Instead of opting for booze try this delicious mocktail recipe.

This mocktail contains:
Grapefruit juice- Grapefruit has immune-boosting and anti-bacterial properties. It's strong citrus smell has also been found to naturally reduce anxiety and stress levels.
You will need:
1 part Grapefruit Juice
2 parts Low Sugar Ginger Beer
Ice Cubes
Rosemary sprig for garnish (optional)
Method
Fill a glass with ice and pour over the juice and ginger beer. Give it a good stir, squeeze in the grapefruit segment and garnish with a sprig of rosemary.