Indoor cycling, or 'spinning' as it's also known, has fast become a popular fitness class thanks to its calorie-blasting, cardio-boosting benefits. 
Our group cycling classes for beginners and the slightly more experienced riders offer a highly effective cardio and strength workout. Ride in time to the beat of your favourite workout tunes, as we get your lungs pumping, your glutes working and your quads burning!
A great fat burning workout to tone the lower body and increase your cardio fitness.
At Village Gym, we offer a number of group cycling classes, including traditional indoor cycling and spin techniques, plus the latest trending cycle workouts.
Love a fast pace?
HIIT training fans will love our Sprint class by Les Mills. Enjoy intense cycling sprints mixed with short periods of rest, for optimum calorie burn.
Like a routine?
V Spin, exclusive to Village Gym, is a great class for blasting fat and enhancing your cardio fitness.
Prefer a low intensity?
RPM by Les Mills is popular with members who are looking for a fun, low impact workout. You control the intensity, so it's a great choice for new members and group cycling pros alike.
Just want fun?
The Trip by Les Mills has taken group cycling to new heights. This immersive group cycling experience lets you ride through a world of underwater caves and snow-capped mountains.
Available only in a handful of fitness clubs around the world, we offer a virtual version of The Trip™ at several Village Gym clubs. Great for thrill-seekers, fun-lovers and anyone that needs a creative boost in their workout routine!
We caught up with professional Fitness Coach, Ben from Village Gym Bury on what to expect if you're new to the cycling scene...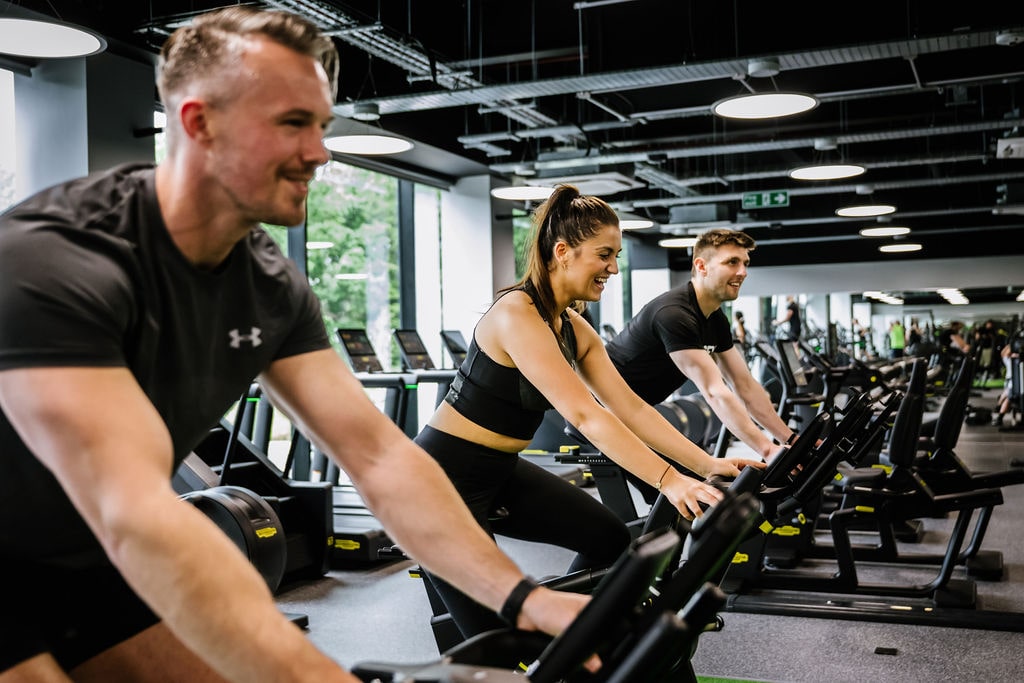 Benefits of Spin Classes
"Indoor cycling provides an insane workout while being gentle on the joints. This is especially great for people who have sore knees or achy backs from pounding the pavement or treadmill too hard. Because of the varying intensity levels throughout class, indoor cycling provides a great cardio workout, as well as a number of benefits such as strength training.
It targets and tones the thighs, glutes, hamstrings, and core. It's been proven to help you drop that stubborn weight and even prevent migraines!
It's also just fun. Perfect for those people who love the music and energy of those dance workouts, but have absolutely no rhythm!"
What Happens In A Group Cycling Class?
"Your instructor will keep you and your muscles fully engaged the entire class. Expect a mix of climbing hills, sprinting, standing, and flat rides.
By changing up the pace and intensity, your instructor will make sure you get an amazing workout. On average, an hour-long spin class can burn up to 500 to 1000 calories!"
What To Bring
"Water- you are going to sweat! Keep those fluids up
Towel/ blue roll- did I mention you are going to sweat?
Shorts/ leggings- so as not to catch in the pedals
Positive Mental Attitude – as much as it can seem daunting…you never know you may like it once youre in there, and might end up eyeing up a new set of padded shorts and cycle shoes before you know it!"
What To Eat
"I recommend hydrating and eating a light snack about 30 minutes before class. This will give you fuel, but won't upset your stomach during the class. Sip plenty of water before and during the class to ensure you stay well hydrated."
What To Buy
"Get yourself a MyZone belt. If you want to see how hard your working then wearing a heart rate monitor is a really good way to see this. If you have a MyZone belt, your heart rate will be up there in the middle of class, so it's a nice way to make sure you're hitting your target."
(Get your discounted MyZone belt here)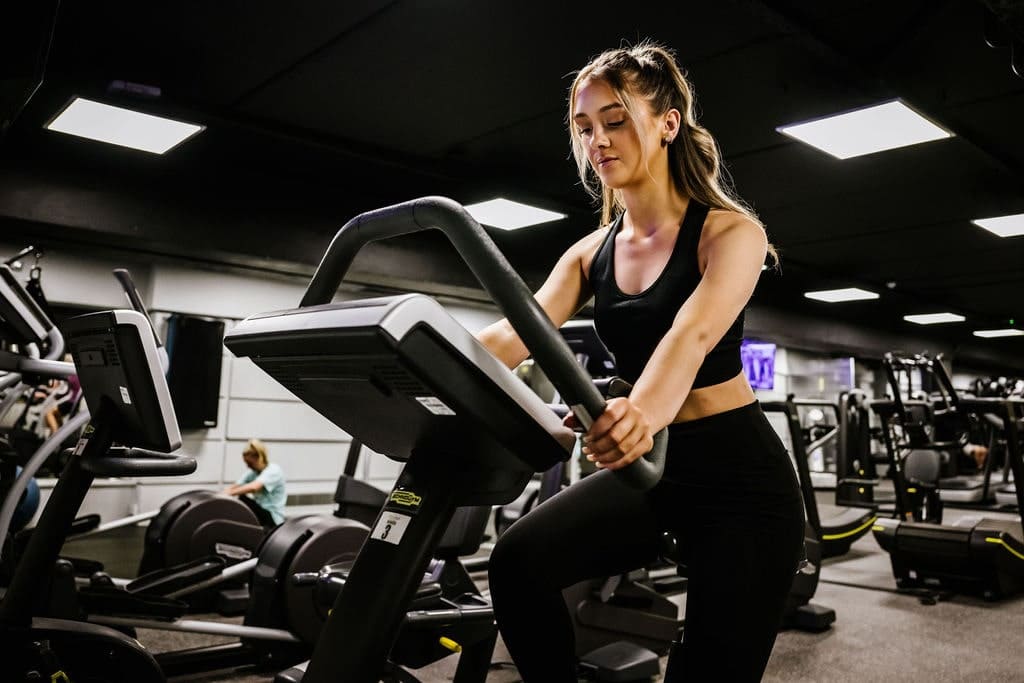 Before Your Class
"Arrive early! Spin classes are popular! Make sure you reserve your spot and come at least 5 to 10 minutes early. I would definitely recommend booking a bike online. This will give you a chance to claim your bike and start to feel comfortable.
Make sure to meet your indoor cycling instructor and let them know that you are a beginner. Definitely let them know if you have any injuries or health conditions that could affect your workout."
On Your Bike
"Even though it sounds scary, grab a bike towards the front. This will give you a better view of the instructor, and they'll be able to help you make adjustments during class. Your instructor will be able to help you set up your bike, too."
Meet Your Members
"Instructor not there yet? Don't be afraid to reach out to someone in class for help with your bike or any questions you have. Spin classes truly foster a community, so you'll have no trouble finding a friendly face."
Go At Your Own Pace
"You'll be in control of the resistance throughout your session. Some people find themselves tempted to overdo it, whilst others are more inclined to under-do it.
Using too much resistance will feel like riding through concrete, and it won't result in legs of steel. Instead, you'll begin to rock and recruit weaker muscles in your lower back, as opposed to the glutes, quads, hamstrings and core that you should be maximizing. If you feel like every pedal stroke is a conscious effort that travels into your ankles and your lower back, then back off the resistance dial.
At the other end of the scale, if your spinning is super quick and feels almost out of control, you'll find your lower back wiggling as you pedal, and your bum shifting in the saddle.
If you start to feel like you need a break, just remember to keep pedalling. Your legs will start to fatigue during class. Slow down or go all the way down to no resistance, but keep those legs going. Let the music help carry you through!"
See more fitness tips from Ben on Instagram: @Benfanshawept