We love to watch our members smash their fitness goals and achieve impressive body transformations. So when Katie joined Village Gym Leeds South, we were ready and waiting to make it happen.
"I had never set foot in a gym before I joined Village Gym...not even my little toe... to say I was terrified is an understatement. I joined in April, and was shown around by Jordan. Impressed by the club's facilities, I signed up on the spot for a years membership. I wasn't keen, I wasn't enthusiastic but I knew if I didn't I would never come back as fear would take over again.
A few weeks later, I had my first induction with Andy. I literally had tears in my eyes as I was so scared and felt uncomfortable in a gym environment. But he took the time to show the equipment without rushing or pushing me to do anything I felt uncomfortable with. He created a plan for me and I set myself the goal to be in the gym 3 times a week.
I've been in a minimum of 3 times per week since April and in May, I came in early on a weekend and Andy pulled me into a BURN class. 
He adjusted the exercises so that I could do them without making me feel like an idiot and he pushed me so I felt like I'd achieved in that time. I started doing BURN classes regularly after that and the more I did the more I use those exercises as part of my own workouts.
Having achieved the Smartstart goal of 10 workouts in 30 days, I did an hours Personal Training with Simon. My legs really ached after, the pain! A few days later the pain was gone and I realised I actually missed it. I've done 7 more Personal Training sessions with him since then.
I've also taken part in different classes - MOTION, Spin, Boxercise, Abs Blast and Bootcamp during the open weekend. I'm not the type of person that would willingly sign myself up for something new, but the Fitness Instructors know tha,t so they just grab me if I'm here at the right time and that has worked (and I've returned to the same classes after).
I swim after almost every workout to help with my recovery and I enjoy using the poolside facilities.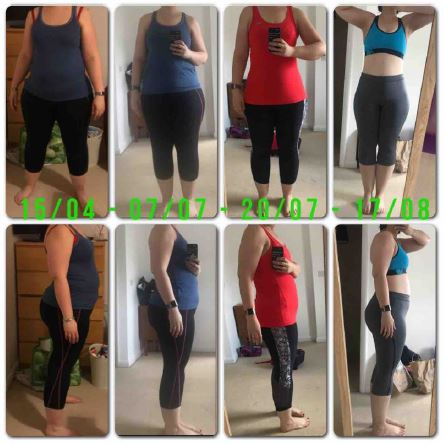 At the time of writing, I'm down 19kg in 4 months. My resting heart rate has decreased, my blood pressure is down and my energy levels are up. I've achieved this through a combination of a healthy diet and exercise."
And we couldn't be more proud Katie! 
If you're keen to smash your fitness goals and need a little support, speak to our team about a Personal Training consultation and let's get you on track to success!