When your workout is done, avoid temptation to raid the fridge for the first thing you find. This delicious Beetroot Falafel dish can be prepped in advance, for the perfect post workout refuel.
Made on a base of Moroccan spice-infused couscous, with pomegranate, roasted peppers, roasted nuts and dried fruit with a minted yoghurt and cucumber dressing. Packed with fibre, folates and nitrates for a healthy heart and a refreshing boost of antioxidants to energise your day and making this a great dish to enjoy before exercise.
YOU'LL NEED
Chickpeas
Beetroot Pieces
Cous Cous
Turmeric
Ground Coriander
Ground Cinnamon
Ground Cumin
Apricot
Sultanas
Pomegranate
Fresh Coriander
Fresh Mint
Cucumber
Ginger
Red & Yellow Peppers
Toasted Flake Almonds
Low Fat Greek-Style Yoghurt
Falafels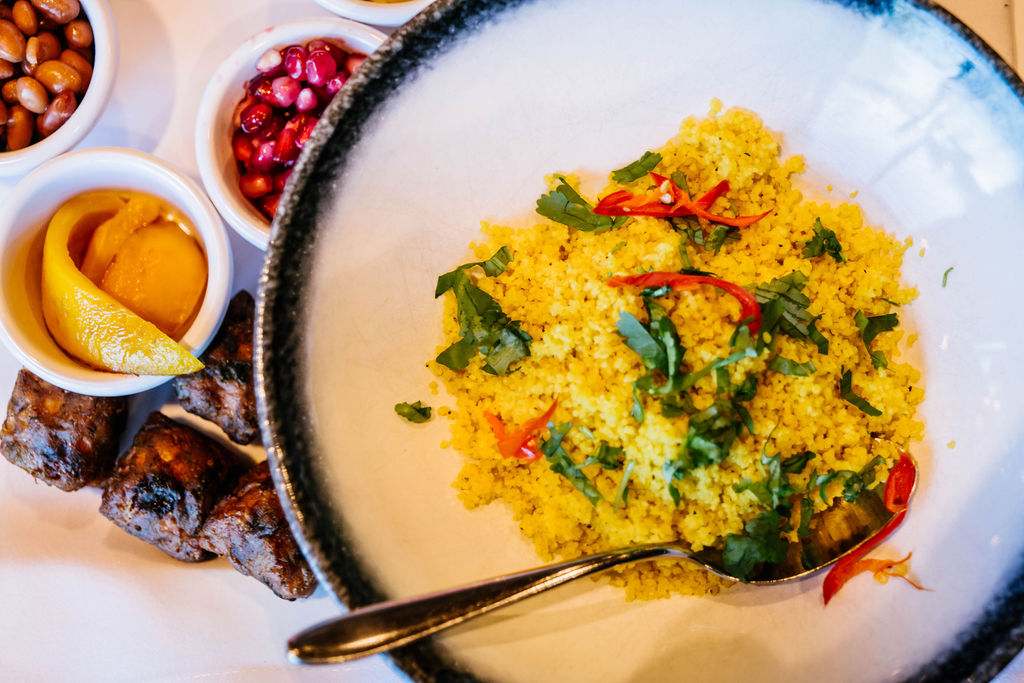 HOW TO MAKE
Add couscous to the bowl
Add apricot, sultans, pomegranate seeds to the bowl and mix
Then add the dried ingredients; turmeric, coriander, cinnamon, cumin and ginger and give it a good old mix
Once mixed add your toasted almonds, cucumber and chickpeas
Place beetroot pieces on top
Then add peppers and falafels
Squeeze some zesty lime
And finally, add your yoghurt on top
NUTRITIONAL BENEFITS
Our delicious beetroot dish features so many nutritional benefits that you can enjoy. The roasted beetroot pieces are high in nitrates which act as a vasodilator to expand red blood cells to carry more oxygen to the working muscles. Together with the chickpeas, providing you with a high in iron-rich slow-release carbohydrate gives you that much-needed boost to smash a workout.
Both ginger and couscous are great for digestion, together with turmeric is a great combination for improved gut health. This dish also contains ground cinnamon and ground coriander, both helping to control blood sugar levels with coriander improves cholesterol levels and promotes immune function through its antioxidant properties.
This dish is also packed full of fruits from apricots rich in vitamin C and vitamin A providing antioxidant properties to promote immune health and recovery after exercise. To sultanas, high in carbohydrates, perfect for a quick release of energy before and during exercise. Not forgetting pomegranate, rich in vitamin C offers powerful antioxidant and anti-inflammatory benefits.
Topped with toasted flaked almonds, rich in unsaturated "healthy" fats and are high in vitamin E, fibre, magnesium, riboflavin and phosphorus, all of which contribute to healthy energy metabolism.
---
If you're not up for making this dish yourself why not head to your local Pub & Grill where we will do the hard work for you. Don't forget, members get 25% off the bill. Want a chance of winning a meal for two? Head to our Instagram to enter.