Technology is constantly evolving. The same goes for the fitness sector, with fresh new ways to work out cropping up alongside slick new technology.  Virtual fitness has taken the world by storm, thanks to the convenience of an instructor-free class and the ability to do a class at a time that suits you best. 
So what is virtual fitness all about? 
For most of us, words like virtual, almost and nearly are pretty similar. So if you almost make it off the sofa and nearly do a workout, have you done a virtual workout? Um, sadly not.
"Virtual fitness is the fusion of exercise with technology", say our friends at Les Mills. But if this conjures images of awkwardly powering through sets of star jumps wearing a virtual reality headset – fear not. Virtual workouts are the same workouts you already know and love, or perhaps want to try, designed to suit your own schedule.
Our virtual workouts are played on the big screens in our class studios. There's no Village Gym instructor present, though you'll be led by a recorded workout from a Les Mills instructor.  It's the round-the-clock accessibility that makes them a hit with everyone from shift workers to stay-at-home Mums, and anyone else who's not keen or able to battle rush hour at the gym.
Virtual classes are a great way to ease yourself in and learn the moves before tackling a live group fitness class. So, if the thought of joining a throng of confident, seasoned group exercisers in a packed fitness studio daunts you, virtual could be the way to go. Virtual workouts at Village Gym typically attract smaller numbers, and you can go at your own pace, which makes them ideal if you're a novice looking to learn the moves.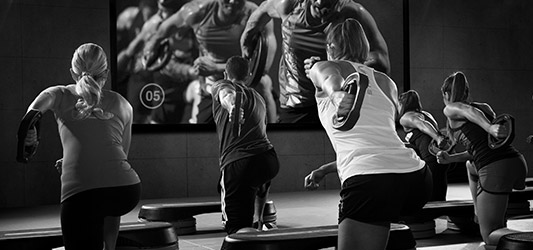 Not all virtual workouts are created equally. The best are based on proven exercise science. Choose a Les Mills Virtual workout and you'll be doing the same workouts that are loved by millions worldwide. These workouts are developed by fitness professionals, they feature moves developed by exercise scientists and subjected to a rigorous testing and development process. What's more, they are led by highly-skilled presenters who have been hand-picked from all over the globe.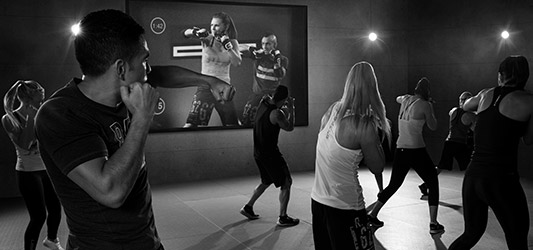 Research shows the camaraderie of group fitness can be very beneficial, and there are also findings indicating that technology-based "virtual" group fitness can be advantageous too. A University of Michigan study looking at group fitness video games found that those who worked out virtually had increased motivation and performed better than when they were sweating it out solo. It all came down to the fact they were alongside "superior" players. This suggests that when people work out virtually, the fact that they are exercising alongside leading fitness professionals on-screen may help them raise the bar and improve performance.
There's also proof that the sensory experience created by modern technology can help. A recent study of immersive cycling class THE TRIP™ showed the audio-visual components encourage participants to work out at harder than they perceive with less discomfort.
Winner all round! If you fancy trying something new, or just need your favourite class on your own schedule, try a virtual fitness class in club. 
Join in on all the fitness fun and book a virtual fitness class at your local Village Gym. 
Thanks to Les Mills for sharing this content with us, originally posted on Fit Planet.