We are now in the third year of the Covid-19 pandemic. The last three years have brought us a whole host of challenges, including isolation, unemployment, uncertainty, ill-health, and many mental health challenges.
Scientists have also been suggesting this link between covid and mental health. With one study conducted by researchers from St Louis University tracked 150,000 military veterans in their 60s who had tested previously tested positive and compared these to 5.6 million veterans who had not had the virus. They found that those who had previously had covid had approximately 15 extra cases of depression per 1,000.

The study also found:
Suicidal thoughts were around 46% more common among those who had covid.
Covid survivors were more likely to suffer sleeping problems.
Higher rates of alcohol and drug misuse were found amongst covid survivors.
Hospitalised Covid patients were 243% more likely to suffer mental health problems.
Overall, those who had previously caught Covid were 60 per cent more likely to have a mental health disorder than those who did not catch Covid. Oxford University found one in three survivors were diagnosed with depression, anxiety or other issues within six months of having coronavirus.

The study also found that covid has been linked to severe mental health issues, with 20% more likely to abuse substances within one year of having covid. There has also been a link to a higher risk of post-traumatic stress disorder, suicidal thoughts and panic attacks.
Other research also found that coronavirus has led to brain fog months after having the virus.
Although restrictions have been lifted, many of us are still dealing with the impact Covid19 has had on us mentally. The Mental Health Foundation found that nearly the amount of people who stated they were coping well had fallen from 73% to 60% in September 2021.

MENTAL HEALTH TIPS
EAT WELL
A nutritious, balanced diet is what our bodies require to function correctly and make us feel good, think clearly and feel more awake. Eating all the junk food in the world, no matter how tempting, can leave you feeling sluggish and drained of energy.
To keep your mental health on track, you need to ensure you fuel your body with all the good stuff. Starting with the obvious fruit and vegetables, nuts, eggs, and food high in omega 3 are all excellent brain food.
Why not try one of our nutritious bowls of goodness here at the Village Pub & Grill, from our King Of Protein to our Just Beef It, Beetroot & Falafel Bowl. Made with chickpeas and beetroot to provide fibre, folates and nitrates to promote heart health and a refreshing boost of antioxidant-rich fruit and spices. Topped with a protein-rich yoghurt to keep you energised throughout the day. The roasted beetroot pieces are also high in nitrates which act as a vasodilator to expand red blood cells to carry more oxygen to the working muscles for improved exercise performance.
If beetroot isn't your thing, our Superfood Chicken could be right up your street. This Shredded Fajita Chicken Bowl uses red rice with a higher concentration of fibre, phosphorus, zinc and manganese than your standard rice. This flavoursome rice also provides you with more protein and fibre to promote recovery and keep your heart healthy. Paired with lean chicken and mixed beans, great for your digestive health. Complemented
perfectly with antioxidant-rich salsa, great for both skin and heart health.
Feeling fishy? Try out Hearty Teryaki Salmon Bowl, rich in healthy omega 3 fats, vitamin c and gut-friendly nutrients, to reduce inflammation, improve memory, heart health and immune function. Paired with cauliflower rice, a lower carbohydrate alternative to
wholegrain rice, packed with vitamin C and the anti-carcinogenic and anti-inflammatory polyphenol quercetin, promotes immune and hormone health and supports weight loss.
SLEEP WELL
Many people struggle to get a good night's sleep. In fact, 36% of UK adults struggle to get to sleep at least on a weekly basis. Getting enough sleep is vital to our physical and mental health. How much sleep we all need differs from person to person, but the ideal amount is between 7 and 9 hours.
We know that dealing with any mental health issue can take a real toll on your sleep and vice versa, so it really is a vicious circle. This is why catching enough zzzs is crucial for your wellbeing.
Making a commitment to fitness can help with your sleep patterns. Why not try yoga before bed? Yoga is a great way to let go of any tension you may be feeling. This includes mental, too, allowing for a better night's sleep. If you have a hectic schedule, get your fitness kicks in the morning and book a class for first thing in the morning. This commitment to attend a class will allow your body to get into a routine.
Top Tips To Improve Sleep:
Establish a routine so your brain knows when it's time to sleep.
Avoid drinking caffeine before bed.
Try and get in some physical activity in the evening.
Avoid bluelight before bed. Put down those smartphones.
Create a restful environment. Make sure you have a good mattress, comfy pillows, and the room temperature is around 16-18 °C.
For more top tips, check out our How To Improve Sleep blog now.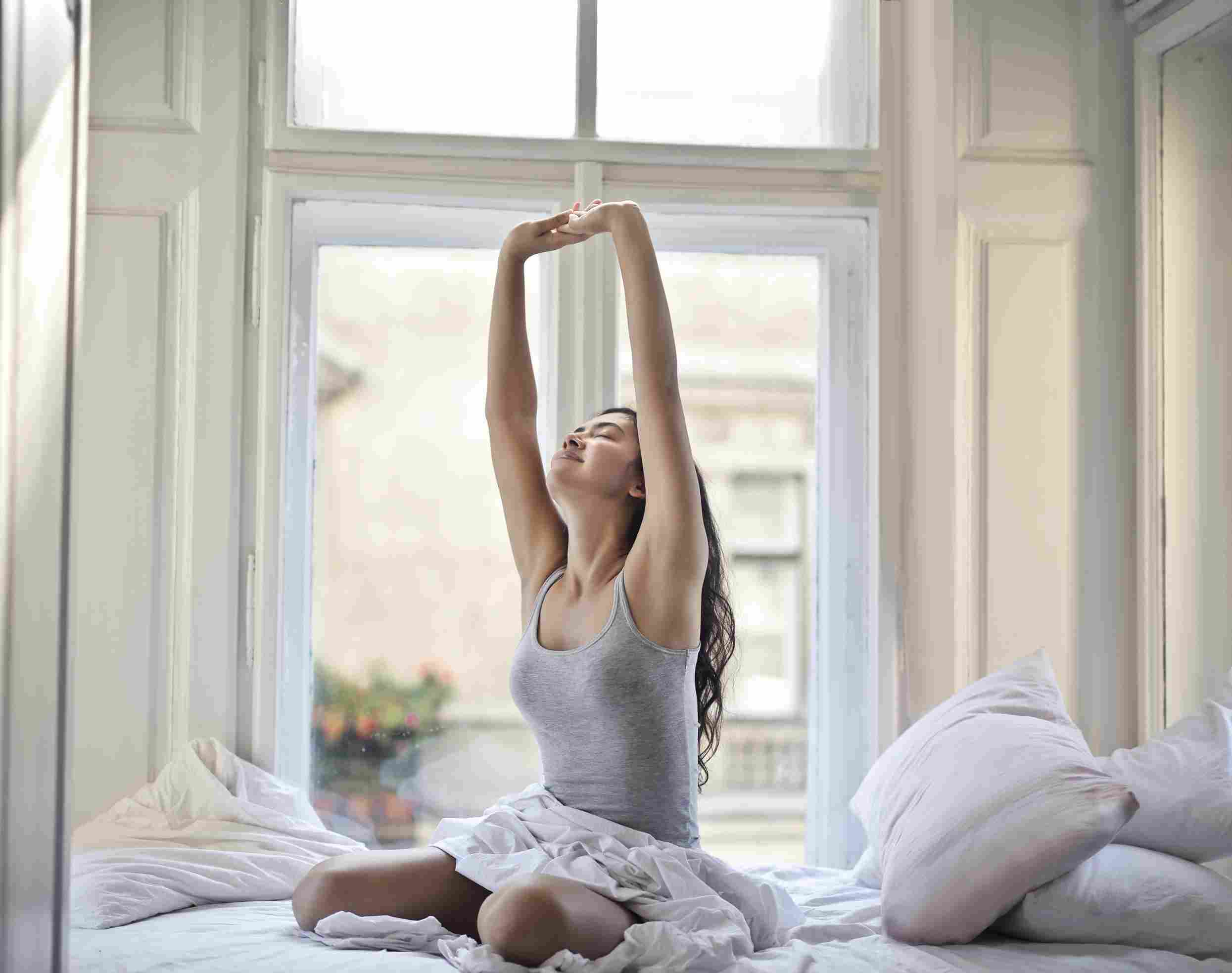 EXERCISE WITH FRIENDS
A problem shared is a problem halved. For example, exercising with friends has been known to reduce the symptoms of depression and anxiety thanks to the feel-good endorphins brought on by an excellent bestie workout.
Tackle a dance-inspired class such as Zumba or Sh'Bam and leave it all out on the floor, put each other to the test with a friendly MyZone MEPS challenge on the big screens, or enjoy a leisurely swim.
If you don't have a gym buddy, then what are you waiting for? Tell your friends all about Village Gym and when they sign up you'll get a little something from us as a thank you.
BOOST YOUR SOCIAL SCHEDULE
After three years of cooped up indoors, we're ready to get back out there and join society. Having a community of like-minded people around you does wonders for happiness levels and self-confidence.
Once you've smashed your workout, why not wind down in Starbucks with fellow members, get involved in member running clubs and events, head down to the pub & grill for a tasty treat and even make plans to attend some fun, feel-good classes together. You'll widen your social circle and feel better about yourself.
STAY ACTIVE
Exercise is renowned for being great for your body, but it's also great for your mental wellbeing. This doesn't mean to say you need to be running 5k every day. Instead, it's all about finding something you enjoy, whether that is going for a walk, hitting the gym, or getting involved in a fitness class.
Unleash your inner zen with pilates classes, using breathing and stretching for a toning workout or relax with one of our yoga classes, a low impact workout that anybody can get involved in, especially you yoga bunnies! Designed to work on both your physical and mental health by focusing on movements and breathing techniques.
Give your mood a boost and get your groove with one of our dance classes, from Sh'bam to BodyJam and Zumba. We will get your heart racing to some tunes bound to make you feel good! If cycling is your jam, then take a seat at one of our group spin classes from Sprint, RPM, to TRIPP. You'll follow your instructor and ride to the beat of your favourite tunes whilst really working those legs. Working out as a group can be great for your mental health. You can meet new people, socialise and feel motivated and spurred on by other fellow fitness fanatics.
Getting in some exercise can keep you looking trim, but it also helps put you in a positive mindset. When you exercise, your body releases a chemical called endorphins. These are what make us feel good. Getting moving can also help you manage your stress and anxiety levels and allow for a better night's sleep.
Whether you need some social interaction or are keen to address your anxiety, exercise really is the best medicine for lifting the mood and repairing low confidence.
Of course, we're here to help along the way. Our friendly fitness experts will be happy to give you a tour of the club, plus offer advice on starting your fitness journey (not to mention a free Health & Wellbeing check).
Find your local club and book a tour…