So you're new to step aerobics, but ready to add a little fun to your fitness. You're in the right place.
First things first, it's called a step for a reason. So get that butt off the step and prepare to work that body!
We take a look at the ins and outs (and er, ups and downs) of a step aerobics class, to give beginners a little insight into what's in store and ensure you're ready to get stepping...
WHAT IS STEP AEROBICS?
Step aerobics made it's mark in the 80's, around the time we were all wearing leg warmers and neon sweat bands. Though it's stood the test of time thanks to it's high energy, calorie-blasting benefits, and is now a staple amongst fitness fans across the world who love a fun, full body workout.
Throughout a step aerobics class, you'll perform step ups, over and around an adjustable step to the beat of motivational music and led by an expert step instructor. 
You'll focus on working a number of major muscle groups, including the core (for tighter, stronger abs and back), legs (for firmer thighs and glutes), plus get your arms involved for extra toning potential (to banish those bingo wings!)
Got 20 minutes? Get a taste of Step Aerobics and take on this calorie blasting HIIT Step workout! You'll need a step... and space to manoeuvre.
I'M A NEW MEMBER
Just joined us? Welcome! Getting involved in a group fitness class like Step Aerobics is a great way to bond with your fellow members and enjoy the sociable side of a workout. Think, great music, a little laughter and plenty of moves - it's like being at a party, with plenty of new friends, where you, you know, step a lot!
I'M NOT VERY FIT
That's OK.
Our Step Aerobics classes are designed to work for all fitness levels. Your Village Gym step instructor will introduce beginners to the basic step moves, and how to work your way around the step. If you find the class a little challenging, you can lower the step, reduce the number of reps or get to grips with the step techniques without the step during your first class.
Just ask your instructor to modify any tough movements whilst you find your feet. 
I'M KEEN TO LOSE WEIGHT 
If weight loss is your goal, you picked a good fitness class to help get you there. Our Step aerobics gets the heart pumping and helps to boost the body's metabolism... helping you to burn fat. The more you can keep that metabolism ticking, the better your potential for weight loss.
"Since I've been taking step aerobics classes in Wirral,  I have noticed I can work out for way longer than before. This has helped me to really maximise my gym time and lose weight. I do a class every week plus cardio work on the gym floor in between." (Village Gym step aerobics fan)
"My thighs look way more toned and my butt is lifted. I do weights in the gym and a step aerobics class once a week. I can really see the difference in my body shape as the weight comes off."  (Village Gym Blackpool Step Aerobics Fan)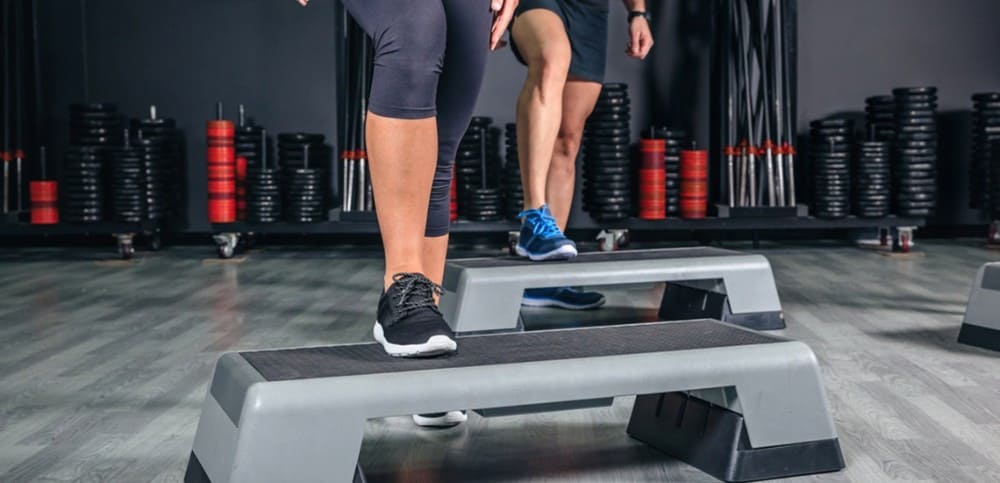 I'M A SENIOR MEMBER
Whether you're eighteen or eighty, our step aerobics classes make for a great full body workout. If you have any medical conditions or injuries, please let your instructor know before the class begins, in case we need to modify any movements for you. 
Make your step class work for you - feel free to increase or decrease the height of your step if needed, or perform fewer reps if certain moves are a little challenging. 
All you've gotta do is step!
Attending Step Aerobics regularly has also been proven to improve your decision-making skills, stepping reaction time, single leg stance and the time it takes to rise up from a seated position.
I'VE GOT TWO LEFT FEET
So, your rhythm is a little out of sync. Fear not. The moves you'l perform during our step aerobics class will help to strengthen the core, allowing you to balance better and improve co-ordination. Once you get to grips with the basic step exercises, you'll find your body moves in ways it never did before. You'll have better control over movements, improved foot co-ordination, and you'll be throwing shapes made for the dancefloor!
I'VE GOT BAD KNEES
Knee pain? Arthritis? Weak joints?
If you have knee pain or a knee injury, taking a Step Aerobics class could put extra pressure on the knees, which may cause discomfort.
That said, you can always enjoy our Step Aerobics class without using the step. Your instructor will show you some basic beginner moves that can be done on the ground, giving you similar leg strengthening benefits, without the harsh impact on your knees.
Ready to get stepping? Book your Step Aerobics class online.