Tying the knot? Planning a holiday with your bestie? Or need a bud to keep you in check?
Working out solo can be tough, and when you're new to the scene it can be even tougher. For one, motivation can be hard, other commitments (or a much needed nap) can get in the way and before you know it, the gym routine has fell right by the waist side. Perhaps you would benefit from the bounce of a group class or, perhaps you need the one to one focus of a trainer, a qualified professional ready to hold you accountable and improve your form. Sounds great, but, as we've established, these new things can be tricky and scary and new, so why not tackle it as a twosome?
Our Personal trainers are happy to broaden the scope of your workout, and as a couple of new trainees, you'll still be individually supported to reach your respective goals even as you workout together. Not only will this hopefully get you over the fear of trying something new, but that motivation will be paired with the expertise of a fully qualified personal trainer. Best of both worlds!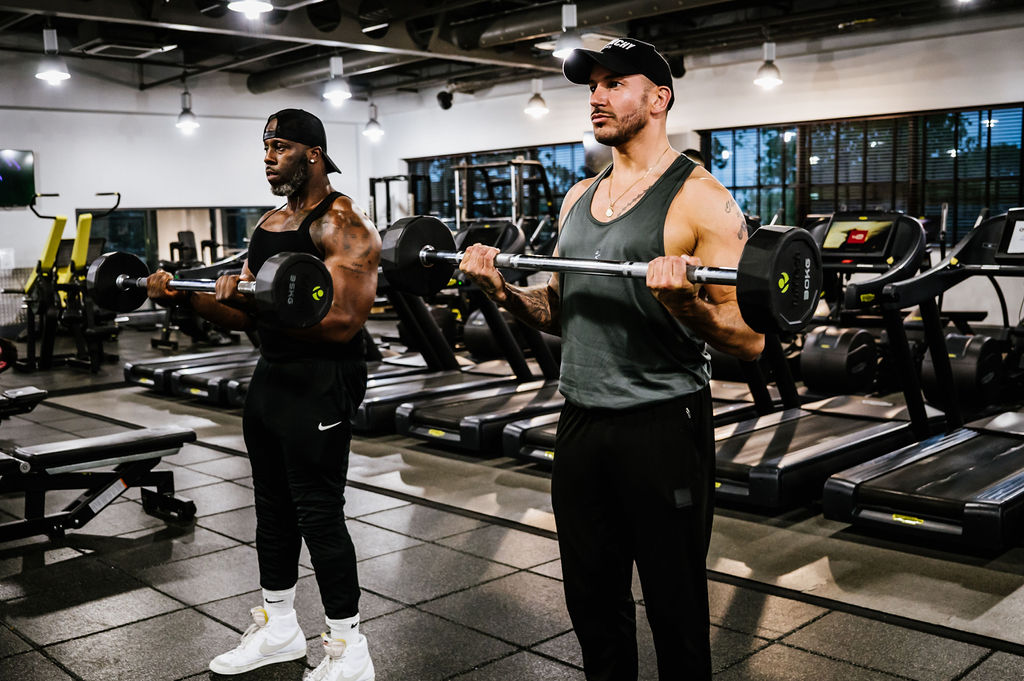 Beyond your paired encouragement and motivation, multiple studies have shown that working out with a friend can increase your performance and lead to solid results. There are several reasons this could be but a big one is that couples must make the commitment to each other, not just themselves. So while you might've sneakily avoided the odd individual session (no judgement here!), with a bud there's less of a chance of skiving since it's not just you who'd be affected. Also, while you might've struggled to push through the burn alone, there's often a little bit of competition that comes out from joint exercise. Go show 'em up (winner buys Starbucks).
Grab your second, and find out what kind of of workout team are you?
Ditch The Desk Duo
We all have that one colleague we consider to be our spare arm. Grab your work wife, your PA, your business partner and pencil in a couples personal training session for your lunch hour.
The 12 o'clock set is a great way to break up the working day and stretch your back after being curled over a desk. Not only will you have a nice little energy boost for the second half of your day but you'll also be energised to be more productive and efficient. Everyone wins!
"Me and my colleague do couples personal training in Aberdeen because we don't like to work out on our own! We train during our lunch so when our day is done, we get to go home, rather than have to hit the gym when it's busy." (Sarah| Village Gym Aberdeen member)
Mid-day Mates
Speaking of daytime workouts, the gym is often much quieter during the nine to five, so if you can spare an hour (or 30 minutes) it can be a great time to enjoy a couples personal training session without the rush on the gym floor. These middle of the day sets are ideal for yummy mummies, retired members or those who work shifts.
"I do couples personal training with a friend, as we're both nurses, so we have busy days and little time to fit it all in. Working out together allows us to spend time together and motivate each other. We're both trying to lose weight. So we get much more out of our session than we would just doing it alone." (Kathy | Village Gym Edinburgh Personal Training Client)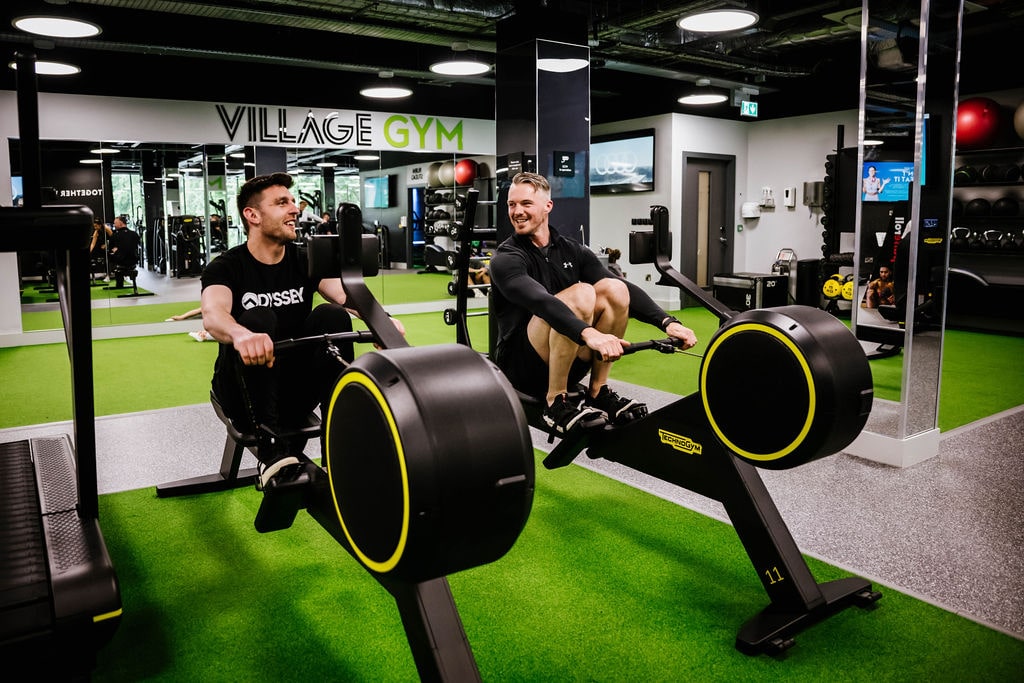 Get Ready, Get Set, Duet!
Your bestie has signed you up to the local marathon / Race For Life / mud-filled trekking challenge. Your first thought? Oh god no. You're not ready and the couch now seems to be taunting you with cushions that have never looked so cosy and soft. But, hey, not to fear. With a Personal Trainer, you don't have to be left on treadmill mindlessly watching the timer tick down. You'll be a mini team, and together you'll create an exercise plan that strengthens your legs muscles and improves your running technique. Plus, you'll be work on your cardio fitness to ensure you last the distance!
Your personal trainer will asses both of your fitness levels and track your individual progress, but remember you'll have the motivation from each other to smash your personal bests.
Make it even more of a challenge with a MyZone belt! You can enjoy a little healthy competition and keep track of who has clocked the most MEPs during each couples personal training session. (Buy yours in the leisure reception.)
Sporty Spouses 
The venue's booked, you've bought the dress/suit, and the countdown to the big day is on.
You'll have a million things to sort out, from guest lists to food, but the most important thing will always be the two at the alter. It's your big day after all and you want to make sure you're both feeling photo ready. Our Personal Trainers will work with you as a couple to make sure you'll look and feel absolutely amazing on your for the big day. 
A slow and steady approach will always be more effective and satisfying than a quick fix, and you don't need added stress to your already crammed schedule. Our Personal Trainers usually recommend that you aim to meet your fitness goal a month before the wedding. This allows you to spend the final four weeks maintaining your efforts, whilst you crack on with the real important stuff, like party planning!
Burn Buds
Fun fact, studies have shown that exercising with a friend can increase calories burned by up to 25%.
Add a little friendly competition into your workout and you're less likely to call quits on it early, or put in a less than impressive effort. The motivation that comes from having a fitness friend pushes us to go that bit further, with the average workout with friends lasting for 44 minutes, compared to a solo session at 38 minutes.
So if weight loss is your goal, regular paired up personal training sessions could see you hit your goal weight earlier than working out alone.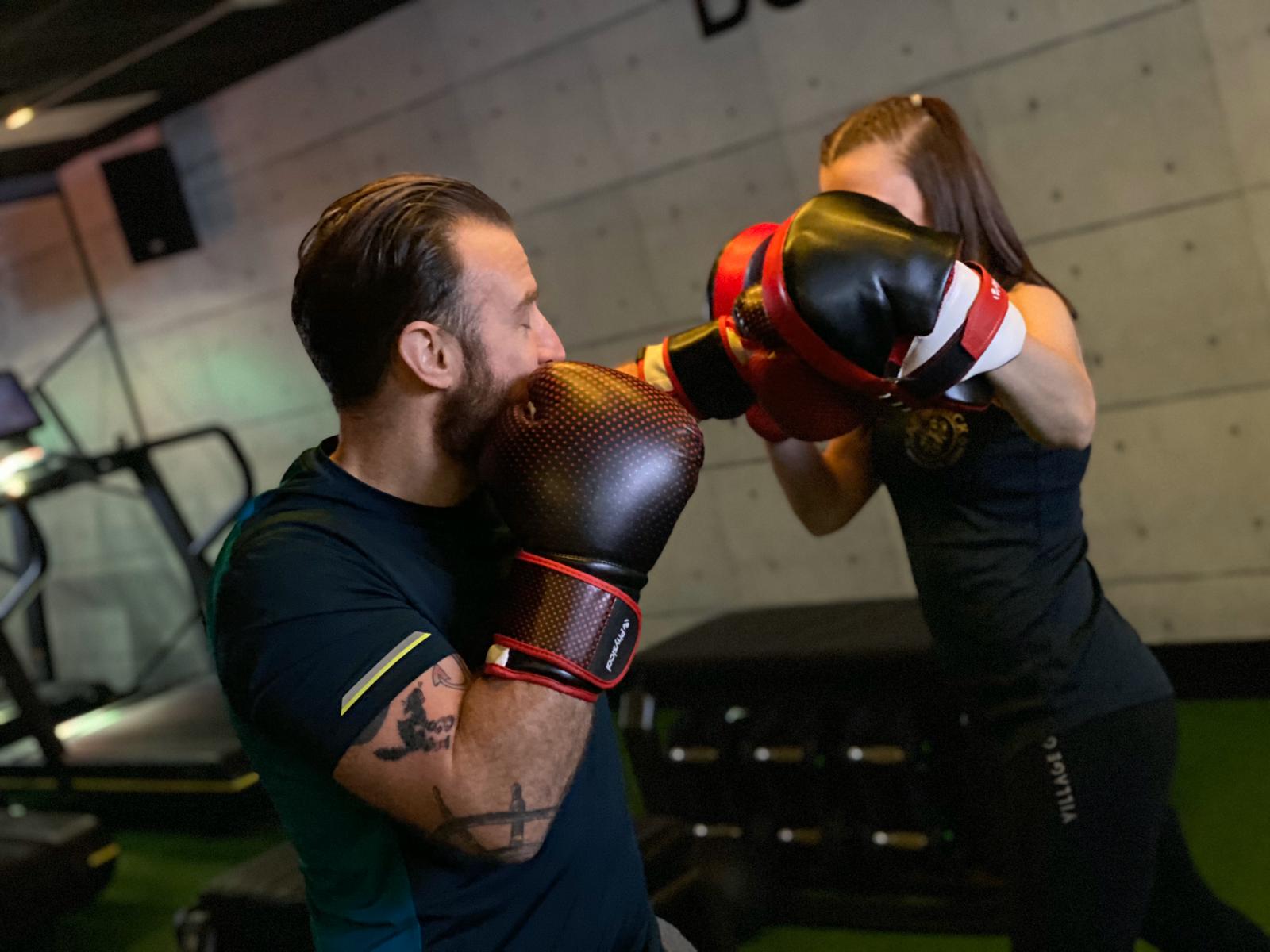 Personal Training For Newbies
Just joined Village Gym? If you're not too sure on where to begin, grab your best buddy for backup and book a couples personal training session. We'll educate you both on how to use the gym equipment, how to spot each other and which bits of kit you should be using to achieve your own fitness goals.
Expect to do some resistance work, exercises to get your heart pumping, and test your fitness levels with a little healthy head-to-head competition!
Naturally, you'll want to finish your session with a refreshing drink in the Village Pub. That's what friends are for!
Couple personal training sessions are a great option for gym newcomers who want the moral support of their closest pal, couples making a commitment to their health as well as each other! Plus, they're a great way to add a more sociable element to your personal training sessions.