Listen, you don't want to believe it (and we don't either) but 2022 is coming to a close.
What a year! It feels like we're finally on the other side of COVID and the fitness world has loved seeing everyone back on the treadmill and back making those gains. Whether you're new to exercise adrenaline or already a hooked addict, we know that you're pumped to finally be able to get really stuck in on all our weird and wonderful workout world has to offer.
Beyond that, 2022 has been a year of massive sporting events that have got everyone hooked. From the Fifa World Cup to the Winter Olympics and Paralympics, to the Commonwealth games, to the Invictus games, the list goes on and on…
With all the madness 2022 had on offer you're probably wondering, 'what on Earth could 2023 have in mind?' Because seriously, if the past few years have taught us anything it's to expect the unexpected.
So we've put together our top predictions of the fitness trends for 2023, so that we can all be as prepped and ready as possible.
Hey, we might even become little trendsetters ourselves.
Your regular Workout, but in VR
Virtual reality has become increasingly available now-a-days, but what you might not expect is that VR isn't strictly limited to the latest gaming consoles.
Virtual reality fitness seems like one of those weird things you might see on a Sci Fi flick. Perhaps you're picturing low gravity space jumps or the classic madness of wii sports, but strangely enough VR fitness is not so much a novelty or fad anymore. More and more people are beginning to incorporate VR fitness / workouts into their usual routine. Partly due to the fun and newest but also because of the practicality.
Think about it. Daily schedules are pretty hectic as is. Trying to schedule a workout and plan it pre-emptively is just too much for most of us. We'd have to go searching for a routine online, look up all the weird and wonderful exercise names (I mean 'a pistol squat'? Really?) and then, get yourself to the gym. It's a big commitment and it's not everyone's cup of tea.
Perhaps classes are more your thing. Totally understandable. They're led by a professional so you know what you're booking yourself on for, and you know by the end of the set you've burnt all the needed calories for the day. Ideal!
But class schedules don't always work out, so the next best thing will likely be something like a VR set. They're a great option for the more shy newbies, you can ease yourself in and learn the moves at your own pace to then build up the confidence in tackling a live group fitness class. Ultimately, VR allows you to make the decisions in terms of what works best for you and at the moment there's a range of classes on offer from the immersion of The Trip, to high intensity RPM, to the fast paced Sprint, BodyPump, BodyCombat, BodyBalance, and Barre. The choice is yours! 

Wearable Fit-Tec
Calories and steps and heart rate - oh my!
A repeat from last year's predictions (and the year before), wearable fit-tec has frankly solidified its presence in our day to day lives. This ain't just a short stay hype, this is the real deal.
So what's all the fuss about? A watch is a watch at the end of the day isn't it?
Not just watches, wearable fit-tec has become increasingly more common because of its availability and its genuine usefulness. Whether you're tracking the daily grind or your 8 hours of kip, these devices are really attuned to help you keep track of general health and wellbeing stats. In fact, wearable tec can be a particularly handy bit of kit for those trying to keep an eye on their blood pressure and heart rate. Two things that are really important if you consider that every year, 9.4 million people die from complications related to high blood pressure, most of which aren't really aware they have an underlying issue (according to the World Health Organization).
And on a less medically note, Wearable tec has helped contribute toward what some are calling the 'gamification of fitness'. Whereby, people start mini competitions amongst their friend groups in terms of who burns the most calories or who got in the most steps. This gamification has helped create a backing of community support within the fitness world, and it is a great way to encourage continual recognised progress while rewarding users for reaching mini milestones.
Interested? Village Members can grab themselves an exclusive steal with the MyZone belt. A handy dandy bit of wearable kit that accurately focuses on the important stuff. Plus you'll be able to build up MEPs (Myzone Effort Points), and challenge your friend's scores for a high hitting workout. Winner buys lattes at starbucks?

Teamwork makes the Dreamwork
Listen, we all know the home workouts were not something that was going to stick. But there's no shame in acknowledging that! At home, you're limited for kit, space, and it's so difficult to get yourself started when the couch is right there…
Gyms provide us the physical space to get ourselves mentally prepped and ready. In effect, you know you can say "Once I'm at the gym, I'll get on the treadmill, get warmed up and get going". You're setting yourself up for success, woo!
But what gyms can also provide is that sense of community beyond yourself. A fundamental component that cannot be replicated at home.
Going forward, try to reach out to potential gym friends on the floor, if you need help there's always going to be someone who has been where you're at and who is willing to provide some advice. Bring a work buddy along and get a break from the daily grind. Meet new people and laugh together as you bump and bounce to the latest class playlist (our dance classes are a particularly popular option).
At the end of the day, the whole team at Village wants to create and support our own little village. We're community driven and collaborative in our approach to fitness, frequently highlighting local success and stories.
Want to get involved in the Village Life?
Mindful Fitness
We all know that mental health and wellbeing is one of those things that has been at the forefront of everyone's minds the past few years. Lives have been completely disrupted for all manner of reasons, but now that we're at a state of relative normalcy, how do we work on maintaining wellbeing?
On our end, we've been seeing searches of Tai Chi & Yoga & Pilates shoot through the roof recently and it's no surprise if you look at member testimonials.
"I know it's a lower intensity but pilates gives me a good break from my daily routine. I feel like I go back to my desk like it's the start of the day and I'm not aching as much in the evenings then" - Swindon Member, Male, 33
"I started Yoga after being suggested by a physio. I've spent a lot of time in physical recovery this past year. I've felt that Yoga has helped me get physically and mentally more balanced. I find I can breathe easier and that's how I knowI I'm on the right track." - Liverpool Member, Female, 45
"It's funny really. I remember doing a few martial art things as a kid so I assumed Tai Chi might be along similar lines. But it's not about the quick movement that you might find in something like a boxing class. It's all about the transition between moves and having the control to manage it. Didn't think it'd be my thing but I love it now, book the same session every week!" - Aberdeen Member, Male, 56
Mindfulness isn't so much about a clear sense of non-anxiety, instead it encourages a comprehensive sense of presence. These fitness classes can really help our members focus on how their body feels and so in terms of mindful fitness, they're already designed in such a way that members learn how to be conscious of and better manage their discomforts. Whether they be physical or emotional.

Building Up the Booty
We've all seen those workouts.
A vocal majority are looking to build up that boot and look like a curvaceous goddess. It is definitely not a fad and we're looking into how to make sure our gyms are kitted for all your booty lovin' needs.
Whether you're looking for targeted exercises or want to get pumping on the latest bit of kit, remember the best advice all comes from in house. Our Personal Trainers are there to help you smash your goals whatever they might be, and if the goal is to get a banging bod then they're there to help give you the booty boost when needed.
Rest Recovery and Self Care
It's important to have open ears during your workout. You have to come first and that means really listening to your body.
Pushing yourself to feel the burn and go beyond limits is a great mentality to have but it must be paired with an understanding of recovery and rest. Think along the lines of mindful fitness, you need to be aware that as aches begin to set in, your post training routine is just as necessary as a warmup.
In club, we make sure to have Pulseroll on the gym floor. The latest technology in improving training recovery, injury rehabilitation, muscle soreness, and general wellbeing. Whether you're using the foam rollers, single ball, or massage gun, you'll quickly start to see the benefits of increased circulation, and improved mobility.

Low Impact (but effective)
Workouts don't always have to be super intense to be effective, but what's becoming increasingly clear in this new world of fitness is that low impact does not necessarily mean boring.
Often low impact workouts are stereotyped as easy or safe but that's not really reflective in the sheer diversity of routines available. Low impact can mean taking moves at a slower pace but that doesn't necessarily correspond with a lack of technical difficulty or skill.
Take, Barre, for example. Inspired by the outline of ballet practice, Barre combines pose positions and controlled movements, with high repetitions and light weights. Now, the class is obviously designed in such a way so as to lighten the pressure focused on your joints, this isn't an intense HIIT circuit or GRIT sesh. But that doesn't mean Barre is easy. In fact, the positions can be quite difficult for the newcomer just starting to condition their body because, as with any workout, practice makes improvement.
Try a 'low impact' class for yourself! They're worth the challenge and there's less chance of any particularly painful injuries or soreness holding you back.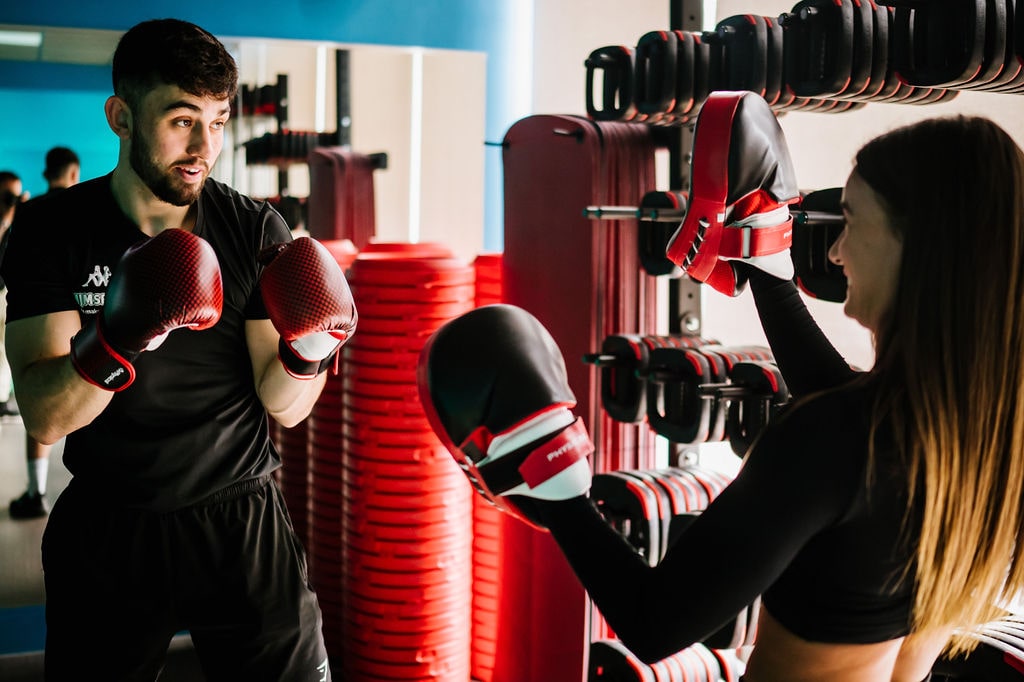 Knockout Workouts
The popularity of MMA, or Mixed Martial Arts, has been exponentially growing over the past few months and shows no signs of stopping or slowing. With the basic search term "MMA" being searched around 48,100 times per month in the UK alone!
From the sport to general self defence, there has clearly been a massive interest toward what martial arts brings to the fitness world and so it's about time we highlight some of our best knockout class inspired by the skills of Paddy the Baddy and Conor McGregor…
BodyCombat is full of all the martial arts you need. You'll learn Karate, Taekwondo, Boxing, Muay Thai and Kung Fu all at once, like a proper MMA master. But don't be scared, no experience is necessary, our instructors are there to guide you through each movement. On top of all those power filled punches, we'll also incorporate some functional training too, including lunges, squats and push ups. You'll soon be sweating!
Evidently, we're heading toward this Next Generation of fitness and while we could stick to our guns and play it safe, that's not the way forward (and that's not our style)...
VILLAGE ADVANCE
Our brand new fitness journey plan, Village Advance is a 12 week catered support program designed to make sure you smash your fitness goals. We'll send you weekly tips, tricks and constant motivational support to keep you on track, plus a free health and wellbeing check with expert professionals.
This is guided, personalised fitness taken to the next level. Consider us your motivators, educators, and cheerleaders.
Not just Village, Village Advance.