They say summer bodies are made in winter, but realistically, it's an effort that lasts all year round. 
Last year alone, we worked with thousands of members to reach their weight loss goals. In fact, we contributed to a total of 2,700 stone in weight loss across all of our clubs, trimming 2500 inches from our member's waistlines! (Check out our latest member stories here!)
What we found is that members looking to trim down didn't workout in one singular, repetitive way. A workout routine that looked the same, day in day out was too restrictive and ultimately, more limiting than conductive. If weight loss is your primary goal then, it appears hitting the gym floor might not be enough to keep you motivated toward your weight loss targets. Our suggestion? If you love to buzz of a great playlist and the boost that comes from exercising with others, a new and exciting fitness class could be your best bet!
With over 100 fitness classes each week to choose from at Village, led by professional fitness instructors, you might be overwhelmed with selecting which class is ideal for you. Not to worry, let's take a look together at the best classes for losing weight whilst maintaining motivation…
Indoor Cycling
Indoor cycling, otherwise known as spin, has fast become a super popular workout. Partially, thanks to the variety of different classes as well as the buzz of getting your sweat on to a pumping playlist.
Tackle hill climbs and interval training with a standard indoor cycling class, or go creative with the latest Sprint or the famous immersive cycling class, The Trip from Les Mills. The high intensity of an indoor cycling class gets the heart rate pumping, triggering calorie burn and maximising weight loss efforts. Plus, the resistance is great for building muscle in the legs, increasing your fat-blitzing potential.
Set your own pace but ensure you push your limits each time, for a fat-burning workout that keeps your metabolism burning for up to 24 hours afterwards.
Short of time? Try our RPM class, a 30 minute workout with maximum effects, for those focussed on weight loss but tight on time.
Curious? You can always try one of our Smart Classes – designing with breaks at set intervals, should you wish to duck out early.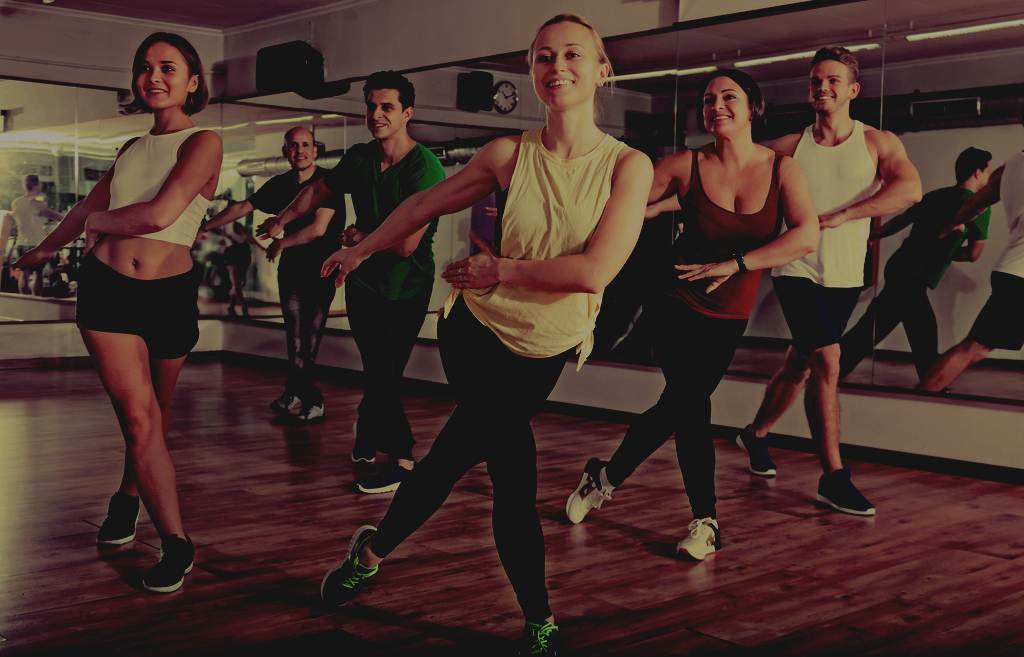 Zumba
Boogie your way to weight loss with the bounce of a Zumba class. You'll perform choreographed dance moves, inspired by the likes of samba, mambo and salsa, whilst getting a full hit of cardio exercise. A great way to blitz calories, just by getting your groove on!
Combining just the right beats with expert-led dance moves, you'll Zumba your way through a cardio session that targets every major muscle group in the body, improving flexibility and boosting your energy levels too.
A great choice for those that love to dance, and want to work on their weight loss with friends.

BodyStep
Our BodyStep™ class is a popular one amongst members that want to lose weight. Offering a full-body cardio workout, this high intensity class will leave you feeling the burn!
Designed by Les Mills, BodyStep combines basic step moves with killer cardio exercises such as burpees, push ups and weight plate workouts that will target your upper body. Expect to burn up to 600 calories in a class if you put the work in.
A great choice for working out with friends, and for those that love a high energy workout that really gets you sweating!
Circuits
Jump, skip, tuck and sprint your way to weight loss with a circuit training class. A great way to get the heart pumping, the lungs working and to blast calories whilst keeping it fun!
Just like indoor cycling, circuits involve resistance training as well as cardio, triggering a hormone response that leads to weight loss. Though unlike indoor cycling, circuits tone the whole body, rather than the legs, making it a great HIIT workout for weight loss.
Circuit classes do allow you to go at your own pace, so it's on you to push yourself further for optimum results. Why not tackle this 20 minute HIIT agility workout, designed to push your body through various planes of movement using HIIT fitness principles.
If you've found something you think you'll love as part of your weight loss journey, log into the Village Gym member's area to book your class online!