If your usual gym floor routine has gone a little stale, or you've hit a plateau in your training, it's probably time to shake up your workout.
Amongst some of the latest fitness classes to emerge on the scene, BodyPump by Les Mills has been hailed one of the hottest ways to tone and tighten with scientifically-backed techniques.
We caught up with Group Exercise Manager, Holly at Village Gym Solihull on what to expect from your first Solihull Bodypump class.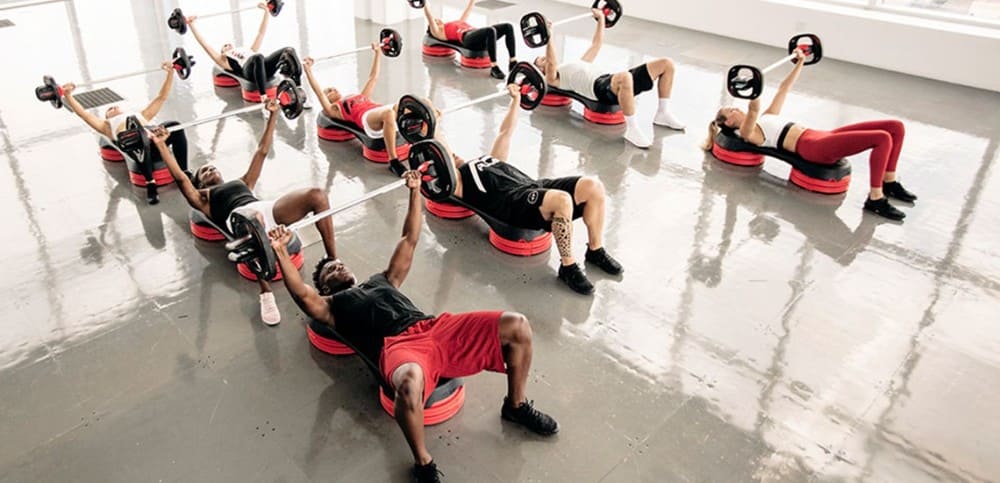 Arrive Early
"Try to arrive 10 minutes before the published start times. Then you can pick out a spot in the studio that allows you to stand close to the instructor, and preferably the mirror in order to check your form throughout the class."
Tell Us You're New
"Make a point of speaking to your BodyPump instructor to let them know you are new and that it's your first time doing the class. This is for support.  We will be able to ensure you are looked after and even paired with an experienced fellow member."
Don't Punch Above Your Weight
"Follow the weight recommendations from your Village Gym instructor. We all tend to have our own ideas of how strong we are, and most of us have a tendency to over estimate our own strength, so sticking to the recommended weights is key to having an enjoyable first class."
Try A Smart Class
"Feel free to finish your work out after the 4th track, this is a recognised first step for newer members. Do not feel forced to stay until the end. With our smart classes, you can build up strength slowly and gradually."
Go Further
"Add an extra track each time you attend a BodyPump class, as you gain confidence it will feel more comfortable and you'll be able to push your body to achieve more."
Come Prepared 
"Our BodyPump class is a high energy, full body workout. So be prepared to swear, perform lots of reps. High repetitions and low weight will help you to build lean muscle, which will keep your body burning off excess fatty deposits during and after the class."
Bring A Buddy!
"Bring a friend to your BodyPump class with you, either a fellow member or a non-member with a one day pass. Working out with a friend helps overcome any fears about the class. You feel more supported and having your bestie there can make the experience more enjoyable."
Mix It Up
"Try different group exercise classes once you've built confidence. You'll often find the same Village Gym instructors teaching many different types of class. If you love BodyPump, they'll certainly recommend plenty of other classes you'll love too!"
Love It
"Lastly and the most important aspect is to have FUN!"
If Holly has you sold on taking your first BodyPump class, book your class online or download the Village app! Ready when you are!