If weight loss is your goal, you won't find a better way to burn the calories than one of our Les Mills Classes. Les Mills certainly know their stuff when it comes to fat-burning workouts that will keep you coming back for more!
Leaders in full body toning and calorie burning classes, Les Mills have a bumper crop of classes to suit your style and your fitness goals. 
Which Les Mills Classes Burn The Most Calories?
| | | | |
| --- | --- | --- | --- |
| Les Mills Class | Workout Length | Calories Burned | Calories/min |
| CXWORX | 30 | 230 | 7.67/min |
| The Trip | 40 | 470 | 11.75/min |
| Body Balance | 45 | 265 | 5.89/min |
| BodyJam | 55 | 480 | 8.73/min |
| Grit | 30 | 400 | 13.33/min |
| Body Pump | 55 | 560 | 10.18/min |
| Sh'Bam | 45 | 410 | 9.11/min |
| Body Attack | 55 | 675 | 12.27/min |
| Sprint | 30 | 450 | 15/min |
| RPM | 45 | 675 | 15/min |
| Tone | 45 | 450 | 10/min |
| Body Combat | 55 | 740 | 13.45/min |
As the name suggests, the Les Mills Body Combat burns the most calories per workout. But if you are limited on time, then Sprint might be the right fit for you. You will really sweat during this one, burning 450 calories in 30 minutes. 
All of the Les Mills classes are a great workout, but at the end of the day, it is important you enjoy your time spent in the gym. To help you choose the right class, we've included a short description of all the classes we offer in our gyms.
Les Mills Classes In A Nutshell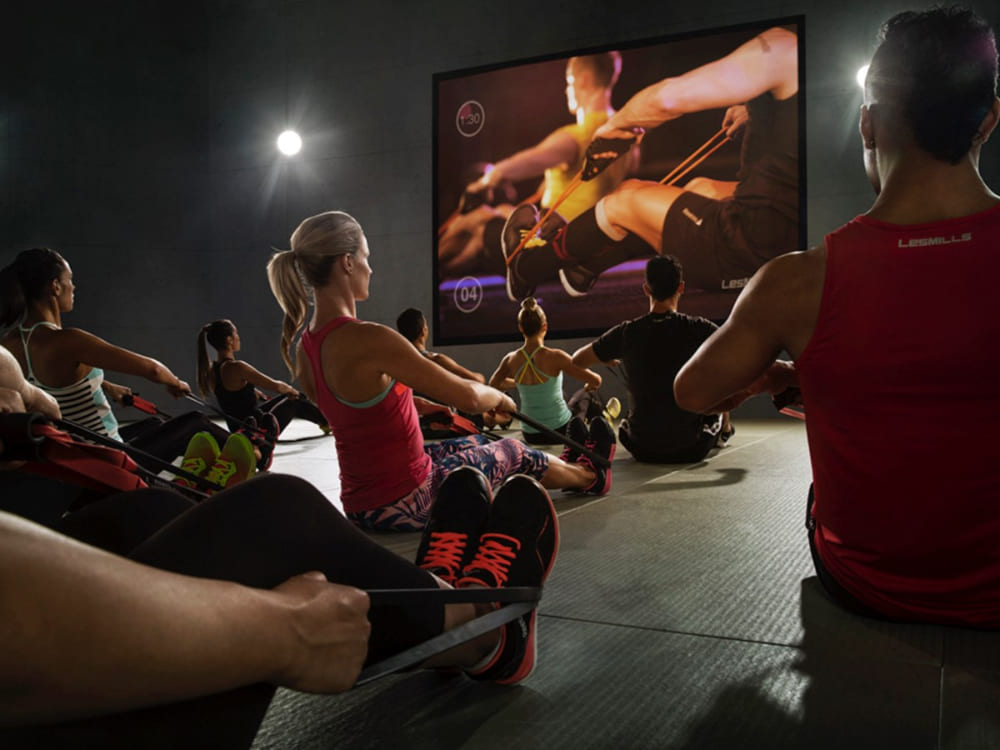 CXWORX |
230

CALORIES BURNED

CXWORX will increase your core strength, toning your abs, butt and legs. This, in turn will help to build lean muscle mass in your core and increase your body's ability to burn calories. Focusing on your core and muscles around your pelvis and lower back, CXWorx provides the vital ingredient for a slimmer, leaner body with muscle definition, increased core stability and a stronger posture. During our 30-minute class, your Les Mills-trained instructors will take you through various core exercise techniques using resistance equipment and weight plates. So not only can you look forward to burning around 230 calories during a 30 minute class at Village Gym, you can expect better balance and stability which can help everything from posture, flexibility and preventing injury.

CXWORX is proven to be more effective than other traditional core-training classes. So if toning is your goal, our CXWORX class is one not to be missed!

"I do CXWORX in Blackpool twice a week to help tone up my abs and strengthen my back after having a baby. It's fun, really varied and lets me work at my own pace, though I like to push myself further for better results." (Vicky| Village Gym Blackpool member)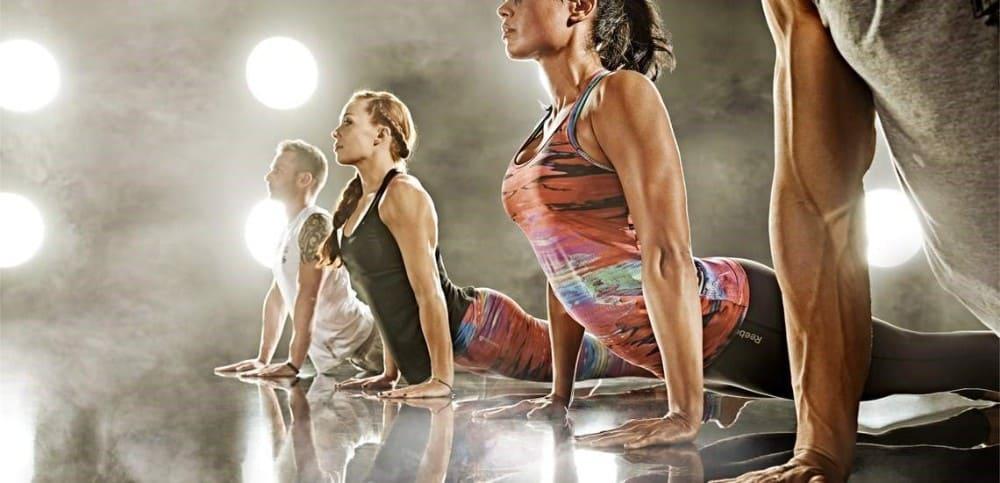 BODYBALANCE |
265

CALORIES BURNED

The number of calories burned in our BodyBalance class will vary depending on your age, weight and level of fitness. BodyBalance is a yoga-based class that features moves inspired by Pilates and tai chi tol improve your mind, body and soul - just what the doctor ordered! Between strengthening your entire body and leaving you feeling calm and centred, you can also expect, on average, expect to burn 265 calories per class!

The great thing about BodyBalance is that you can make it your own. It's also great for senior members looking for a low impact workout, pregnant women who need a lighter form of fitness, and anyone keen to stretch their way to a sleeker physique. Add more intensity to work your body harder and increase your calorie burn. BodyBalance is one of the most popular fitness classes at Village Gym Edinburgh, thanks to it's yoga inspired moves which make it the perfect calorie-burning class for all ages and fitness abilities. (More here: BodyBalance Edinburgh)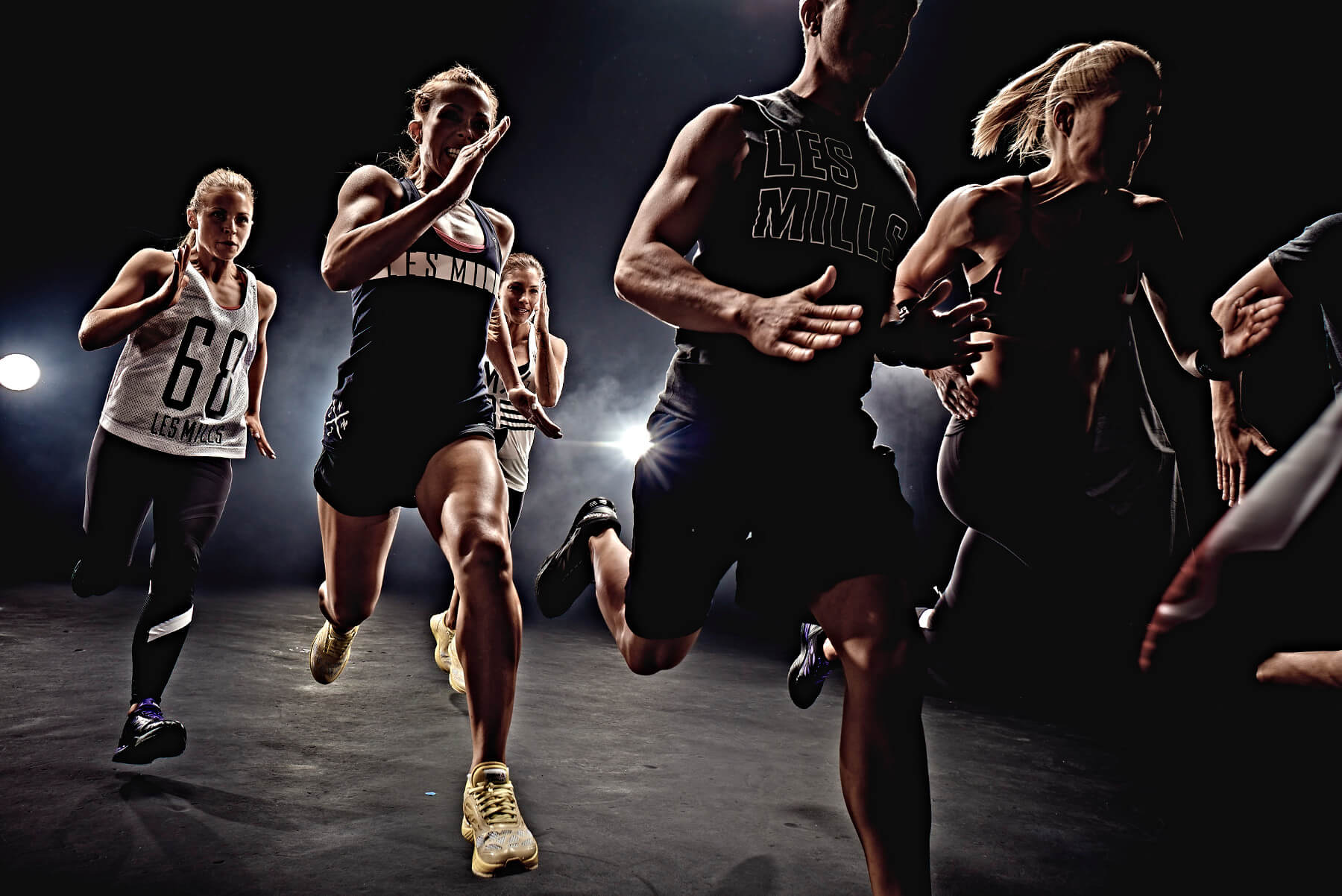 LES MILLS GRIT |

400

CALORIES BURNED
LES MILLS GRIT is designed with calorie burning at its core.  During a 30-minute LES MILLS GRIT workout, expect to burn around 400 calories. This class stimulates excess post-exercise oxygen consumption (otherwise known as the EPOC effect) making your body continue burning calories for up to nine hours after your workout ends.
Here at Village Gym, we offer three Les Mills GRIT classes: CARDIO, STRENGTH & ATHLETIC, with each class focussing on a different aspect of fitness. Strength classes are centred around barbells, weight plates and body weight exercises and will see you improving strength and lean muscle. Cardio classes use a variety of body weight exercises to improve cardiovascular fitness, increase your overall fitness, and maximise calorie burn! Athletic classes use a bench and plyometric movement to help you build a lean and athletic physique.  
This Les Mills study gives you more information on the benefits of Les Mills GRIT HIIT workouts.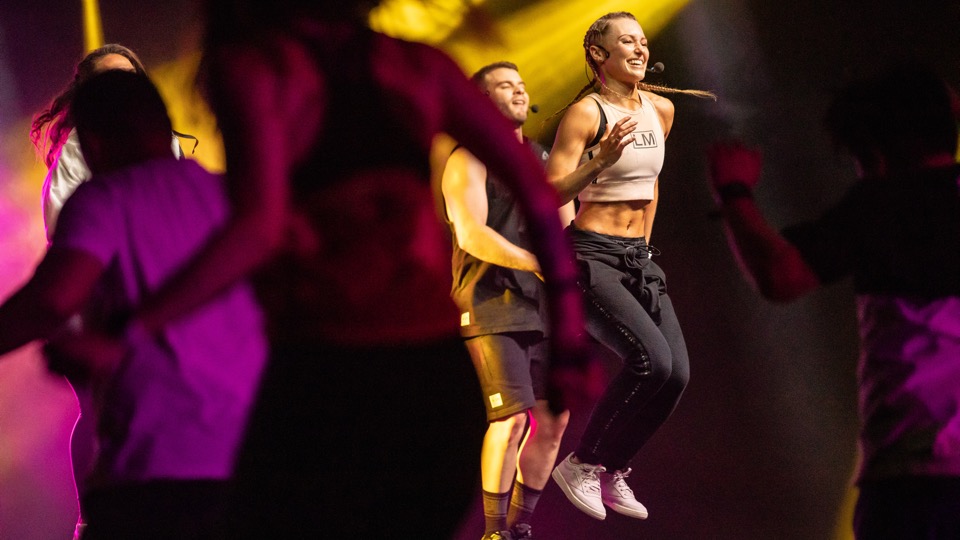 SH'BAM |

410

CALORIES BURNED
Sh'Bam is fun. Like, super fun. All of your favourite dance tunes, sassy moves and lots of smiles. Like a typical Saturday night with your friends... just in the fitness studio! In 45 minutes Sh'Bam dance class, you'll burn 410 calories - killer workout! 

TONE |

450

CALORIES BURNED
Tone by Les Mills combines strength training, cardio work and core-busting exercises that will torch fat and get your heart pumping. In just 45 minutes, you'll burn 450 calories and be on your way to better balance, flexibility, agility and core strength.

LES MILLS SPRINT |
450

CALORIES BURNED

This calorie killing interval cycling workout can burn up to 450 calories, plus also features the post-workout EPOC effect, burning calories long after you leave the studio.

A 30 minute class for those pushed for time but still keen to get a sweat on and tame that fitness fix, Les Mills Sprint will see you ride to a powerful soundtrack as you pound the pedals in order to reach your fitness goals. HIIT training fans will love Les Mills Sprint, combining intense sprints with brief resting periods for maximum calorie burn.

 

THE TRIP |
470

CALORIES BURNED

The Trip by Les Mills is an immersive group cycling experience that will see you ride through a digital world of underwater caves and snow-peaked mountains - it's so much fun you won't even notice the burn! In 40 minutes you can expect to burn up to 470 calories. You'll hit those heart rate zones and get fitter faster without noticing! 

Perfect for thrill-seekers, fun-lovers and anyone that loves a creative approach to exercise. Available only in a handful of fitness clubs around the world, The Trip™ is available at selected Village Gyms, but you can try a virtual version of The Trip at your local Club.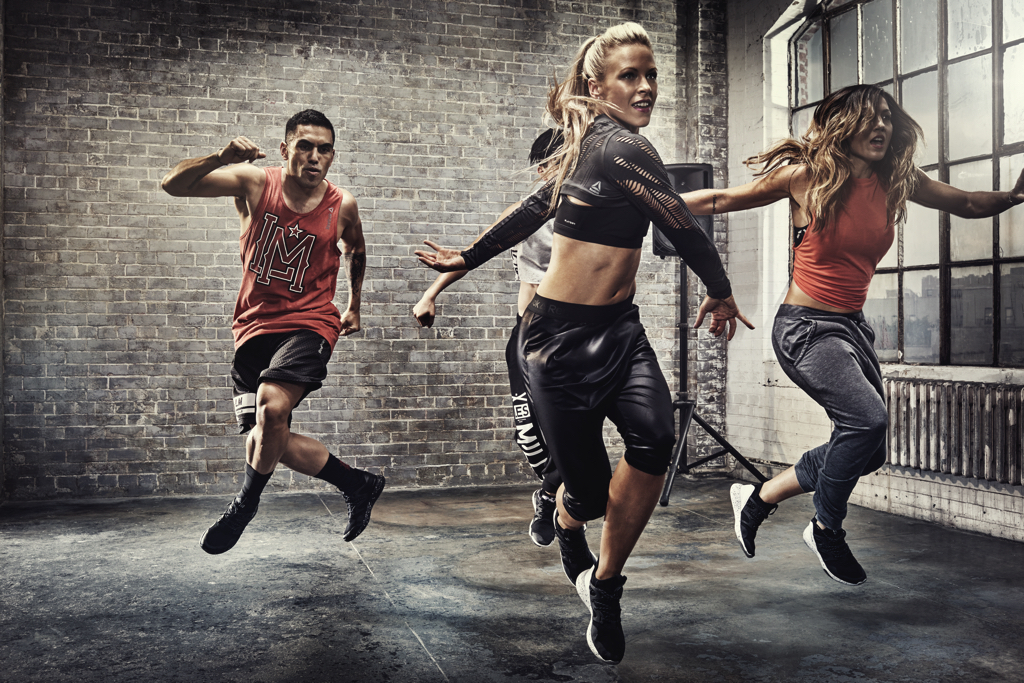 LES MILLS BODYJAM |
480

CALORIES BURNED

BodyJam by Les Mills is the ultimate fitness class for dance fans in need of a cardio workout. Great for toning the legs, thighs and getting that butt perky! You'll be having so much fun you won't notice you've burned 480 calories in 55-minutes.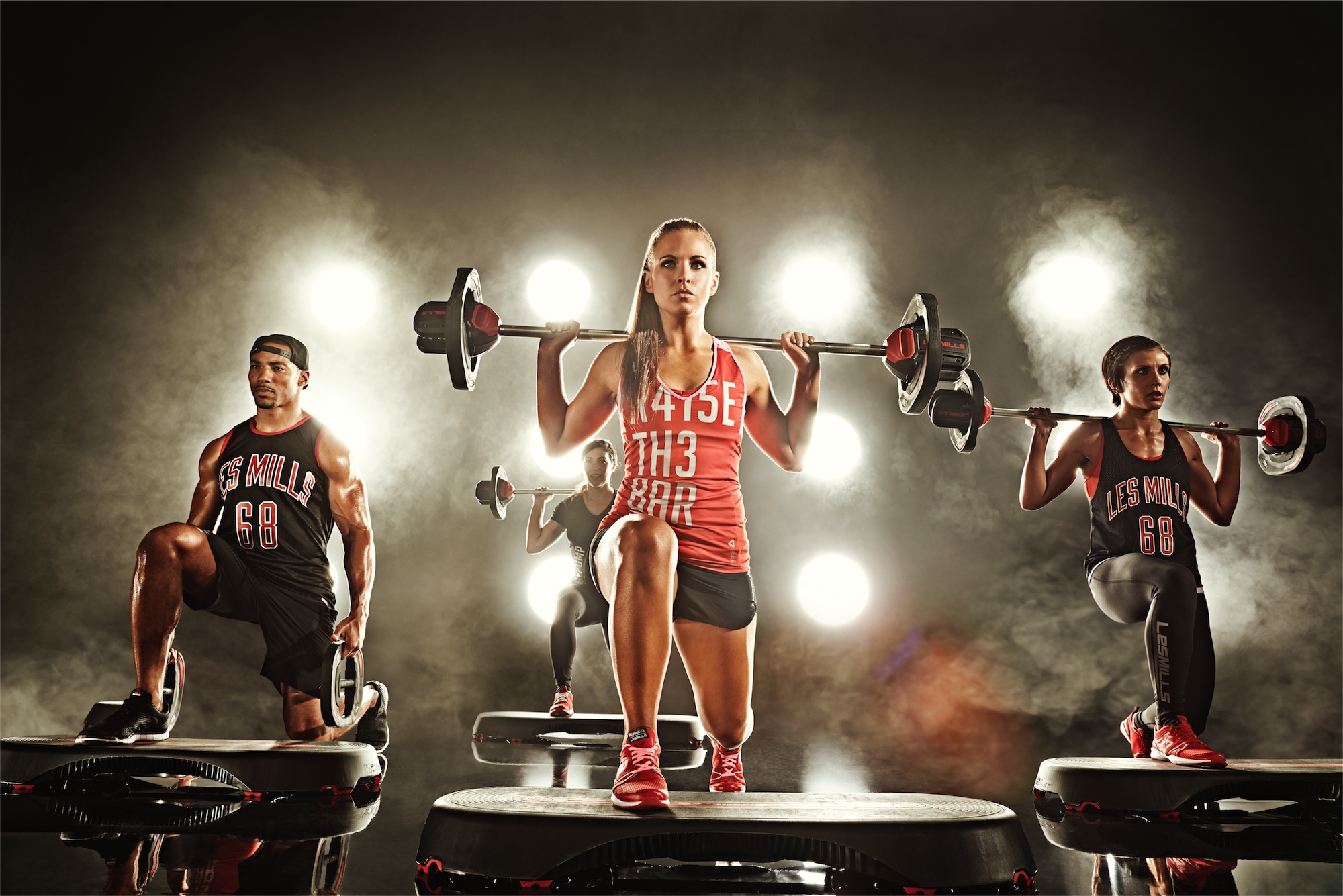 BODYPUMP |

560

CALORIES BURNED
During a BODYPUMP workout you can blitz up to 560 calories during a 55-minute class. Through building lean muscle mass, you'll increase your body's ability to effectively burn calories in the long term as the extra muscle will boost your metabolism.
Based on a scientific formula called The Rep Effect, during the class you'll use moderate weights with lots of repetition to give you an overall workout that will see  you improve your overall body composition.
Moving to your favourite dance tunes, you'll pump those barbells for a more toned upper body and stronger core. BodyPump is popular amongst our members thanks to the 'rep effect'... keeping your body burning calories long after you leave the studio. Great for helping with weight loss goals!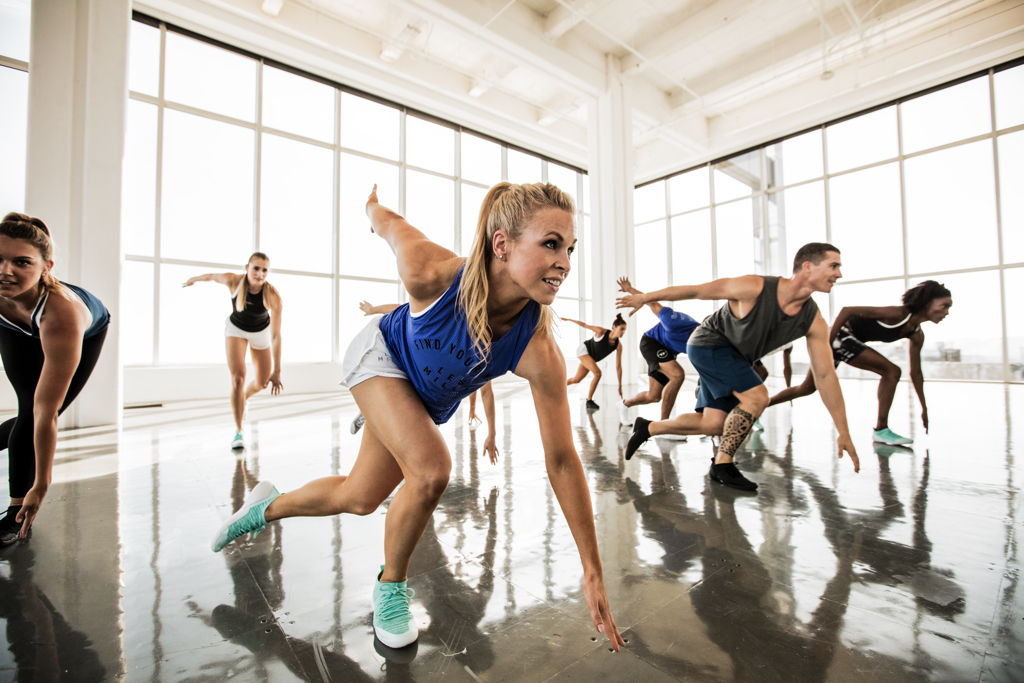 BODYATTACK |
675

CALORIES BURNED

A great cardio fitness class, our BODYATTACK class can burn up to 675 calories during a 55-minute workout. By improving your overall athleticism, you'll also increase your body's ability to burn calories meaning you can look forward to seeing results class after class. 

When you book into a BodyAttack class, you can look forward to a high-energy, cardio fitness class with moves that cater to total beginners or total addicts! Expect movements such as running, lunging and jumping, plus strength exercises like push-ups and squats, for a total body workout that you'll love.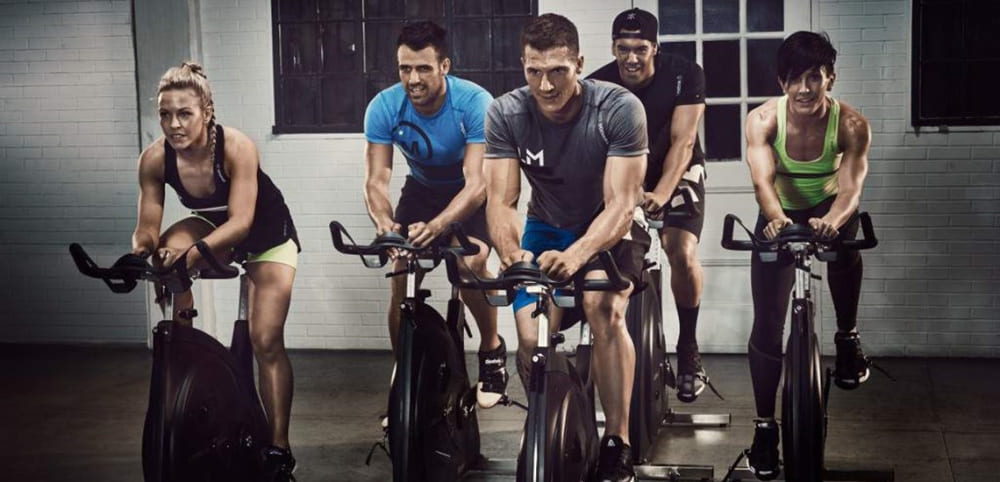 RPM |
675

CALORIES BURNED

A great low-impact workout that offers maximum calorie burns, our RPM can burn up to 675 calories during a 45-minute workout. You control the intensity, so it's a great choice for new members and older adults. An ideal class for weight loss and toning the legs.

Get ready to ride to the rhythm as our Les Mills RPM instructors guide you through hills, flats, mountain peaks, time trials and interval training. Book into a class today to experience a challenging yet rewarding indoor cycling workout.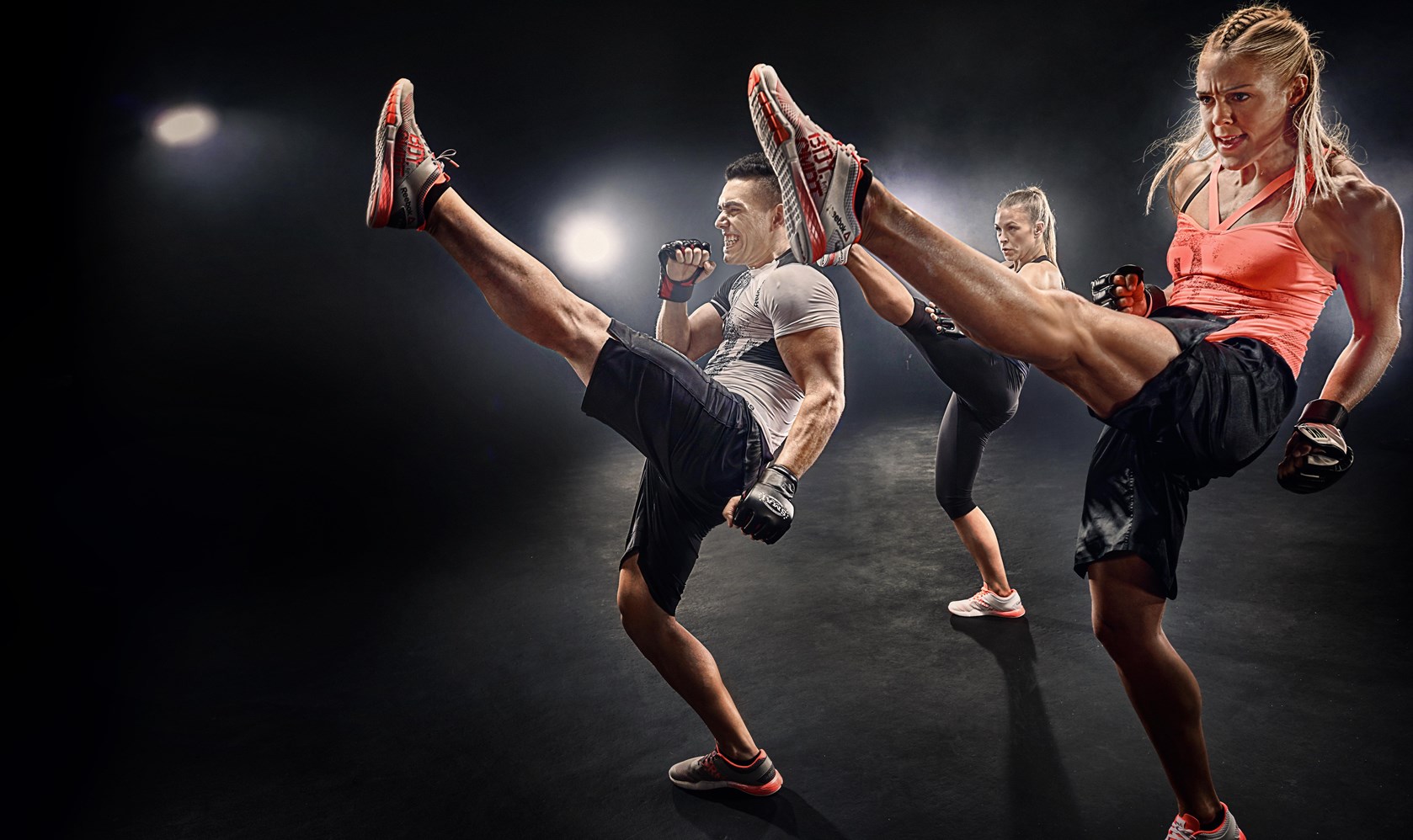 BODYCOMBAT |

740

CALORIES BURNED
Blasting up to 740 calories during a 55-minute workout, BODYCOMBAT offers a serious core workout which will also tone the legs, back, shoulders and arms. 
BodyCombat is a high-energy, martial arts-inspired non-contact workout that will see you punch, kick and strike your way to a fitter, leaner you. With Bodycombat burning the most calories from the list above that makes it the best Les Mill class for weight loss (from a calories perspective). Bye bye wobbly bits, hello bit calorie burns!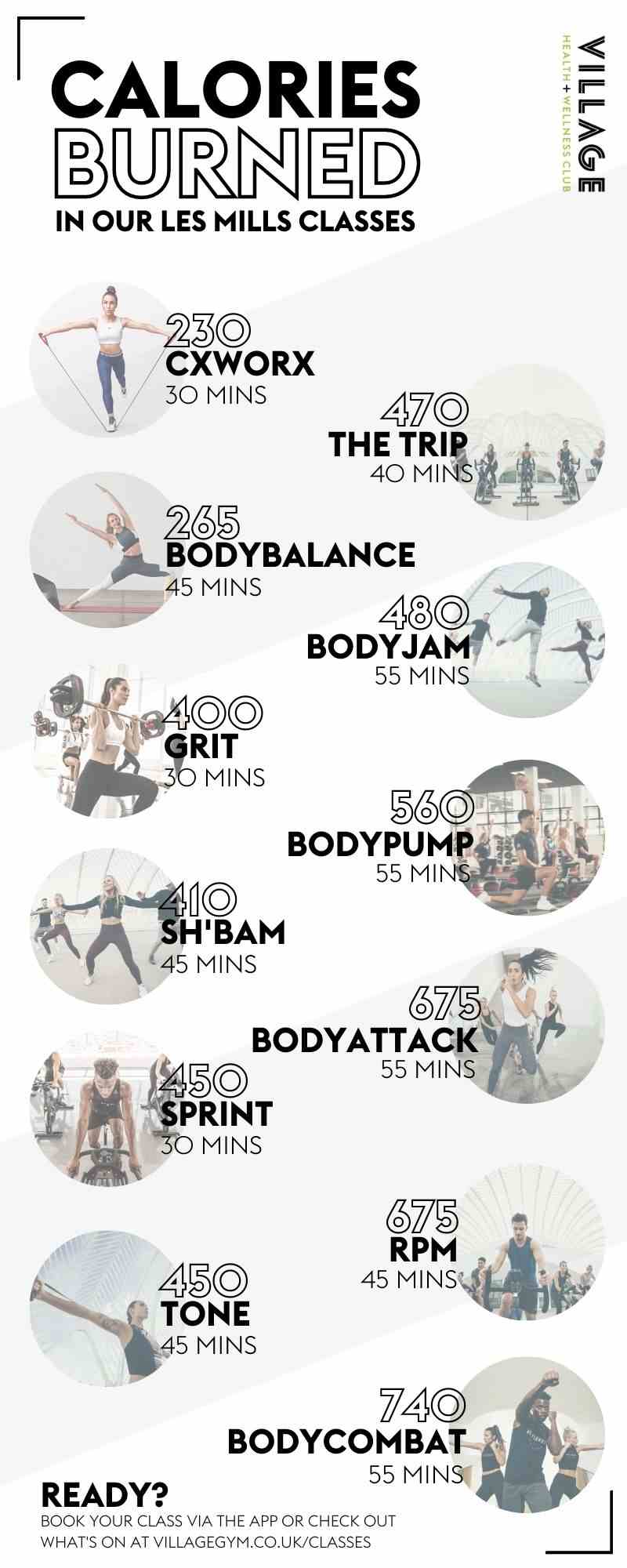 Which one of our Les Mills workouts will you choose? Take a look at our fitness class timetable page to find a class time to suit your schedule. You can also check the Village Life section for more article about Les Mills Fitness and other Village Gym news.
Book your Les Mills Fitness Class online or using the Village Gym app!